No matter what your travel style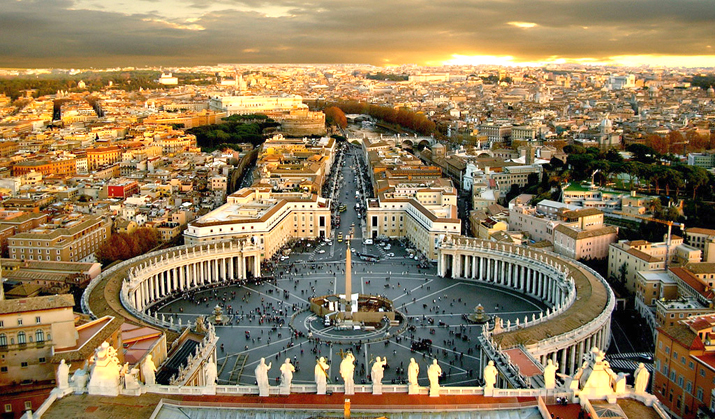 is, Departure Lounge has some great options for you in Rome:
Art & Culture Fans
Pablo Picasso and Igor Stravinsky slept at the Hotel de Russie, but Rocco Forte's 122-room hotel is a hit with art lovers for its contemporary-classic decor and delightful terraced gardens, a green refuge in the heart of the city. And the location is perfect: The feast of works by Bernini, Titian, and other greats in the Galleria Borghese and the dramatic Caravaggios in the nearby church of Santa Maria del Popolo are just two of the treats within easy walking distance.
Drink it in: Stop for a cappuccino at Museo Atelier Canova Tadolini, a remarkable museum-café in a former workshop of neoclassical sculptor Antonio Canova. Via del Babuino 150; 39-6/3211-0702.
Families
Four pools (three outside, one indoors) and 15 acres of landscaped grounds make the 370-room Rome Cavalieri a Monte Mario playground of gloriously opulent decor. Its summer Cavalieri e Principesse kids' program activities range from open-air film screenings to Roman gladiator school (ages 7 and up), while the year-round in-house sitting service allows parents a day alone in the city or a romantic dinner at the hotel's stellar La Pergola restaurant.
Gelato-art: Right behind buzzy contemporary art space MAXXI, Neve di Latte is a fabulous gelateria that uses only natural ingredients. Via Luigi Poletti 6; 39-6/320-7125.
Higher calling: Kids will love the giddy ascent of Saint Peter's Dome, open roughly 8 am to 5 pm daily. Piazza San Pietro; 39-6/6982.
Romantics
Discreetly placed between the dolce vita thoroughfare of Via Veneto and the gardens of Villa Medici, 121-room Hotel Eden is all about pampered seclusion, with trompe l'oeil landscape frescoes in the more romantic bedrooms. But its date-night wow factor is La Terrazza dell'Eden rooftop restaurant and bar, which features unparalleled views over the Eternal City.
Do it up: Rome's most famous hair and beauty salon, Femme Sistina, has been styling and coiffing for the likes of Audrey Hepburn and Nicole Kidman since 1959. Via Sistina 75A; 39-6/678-0260.
Date stop: A heaving mass of tourists by day, Trevi Fountain—a ten-minute stroll from the Eden—transforms into one of Rome's most romantic locations after dark.
Style Seekers
Ferragamo's hotel on Rome's most chichi shopping street, Via Condotti, is no branding exercise, though its walls are adorned with photos, framed copies of receipts (including one from Marilyn Monroe), and the elegant atelier sketches of founder Salvatore Ferragamo. Rather than flaunting the logo, 14-room Portrait Suites simply pairs its location with effortless design for a stylish, discreet city-center refuge that serious shoppers dream of. The terrace—where breakfast and aperitivos are served, weather permitting—is a magical chill-out space amid the rooftops.
Local favorite: Designer pizzeria, a restaurant, and wine bar Gusto is still going strong after more than a decade. Piazza Augusto Imperatore 9; 39-6/322-6273.
Handy tip: Sermoneta Gloves now has branches from Chicagp to Tokyo, but its original Roman boutique is still a must-visit. Piazza di Spanga 61; 39-6/6920-2066
Gourmets
One of Rome's most venerable grand hotels, the elegant 95-room Hassler Roma has become a gourmet magnet for Romans and visitors alike. The lure is Michelin-starred Imàgo, where talented Neapolitan chef Francesco Apreda rises to the challenge of a panoramic city view atop the Spanish Steps with an Italian menu that flirts with Asian and world ingredients.
How to cook Italian: Drop by cavernous kitchen store C.U.C.I.N.A. for home-chef souvenirs such as handheld Parmesan graters or Alessi lemon squeezers. Via Mario de' Fiori 65; 39-6/679-1275.
Raise a glass: Historic Enoteca Buccone is a perfect place for a glass of Chianti and a snack amid towering bottle-lined shelves. Via di Ripetta 19; 39-6/361-2154.
To connect with a Departure Lounge Italy Specialist to plan your trip, email [email protected] or call 512.322.9399.