Meet Travel Advisor Tina Thompson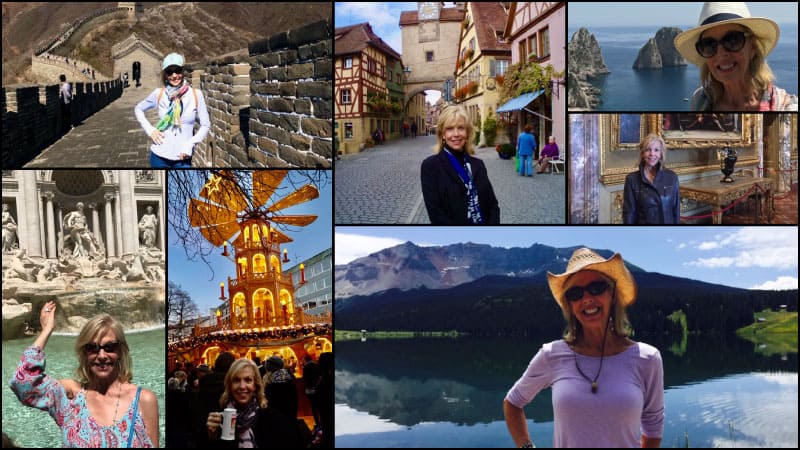 "Once you have travelled, the voyage never ends, but is played out over and over again in the quietest chambers. The mind can never break off from the journey."

—Pat Conroy
Upon my graduation from the University of Texas, my parents gifted me a month-long trip to Thailand. That trip seemed to ignite the travel bug in me and I have not stopped traveling since then.
I have been traveling for the past 41 years and have been to many countries and continents. I particularly enjoy Western and Eastern Europe and finding remote villages and towns that are not as well known and traveled. I never turn down a chance to visit Paris, Florence or Rome. I have traveled many places in Southeast Asia and love the culture there. Before I joined Departure Lounge, I booked a trip to China through the agency and was amazed at the difference it made in my experience. Departure Lounge provides a turnkey fabulous trip with no stress and excellent amenities that I enjoy sharing with my clients.
A personal vacation becomes your story and is a unique experience carried with you forever. Life is about the journey and I agree, but traveling is about the destinations, culture, people, food and experiences. I would like to help you craft your next adventure and create an itinerary that will lead to memories of a lifetime.
Western and Eastern Europe
Asia
Cruises
Hawaii
Independent Travel
Customized Itineraries
Food & Wine
Family Travel
Art Tours
My trip to Rome and the Amalfi Coast was enjoyable because it combined many facets of Italy and allowed me to explore at a leisurely pace. I flew into Rome and stayed a few days to enjoy the museums, food and sites. From there, I took a train to Naples and continued on with a private driver to Positano via Pompeii.
My base was Positano and I spent time in Capri and Anacapri to explore the wine, food, sun and scenery. Day trips with a personal driver to Ravello, Sorrento, Amalfi, Furore, Praiano and Cetara were unforgettable and a welcomed change from the crowds in Positano. This combination of areas showed the contrast of the lifestyles and the similarities of the cultures through their love of food and family. It was a wonderful trip filled with cooking classes, art, wine and relaxation while paying homage to my Italian ancestors.