Meet Travel Advisor Mo Greenwood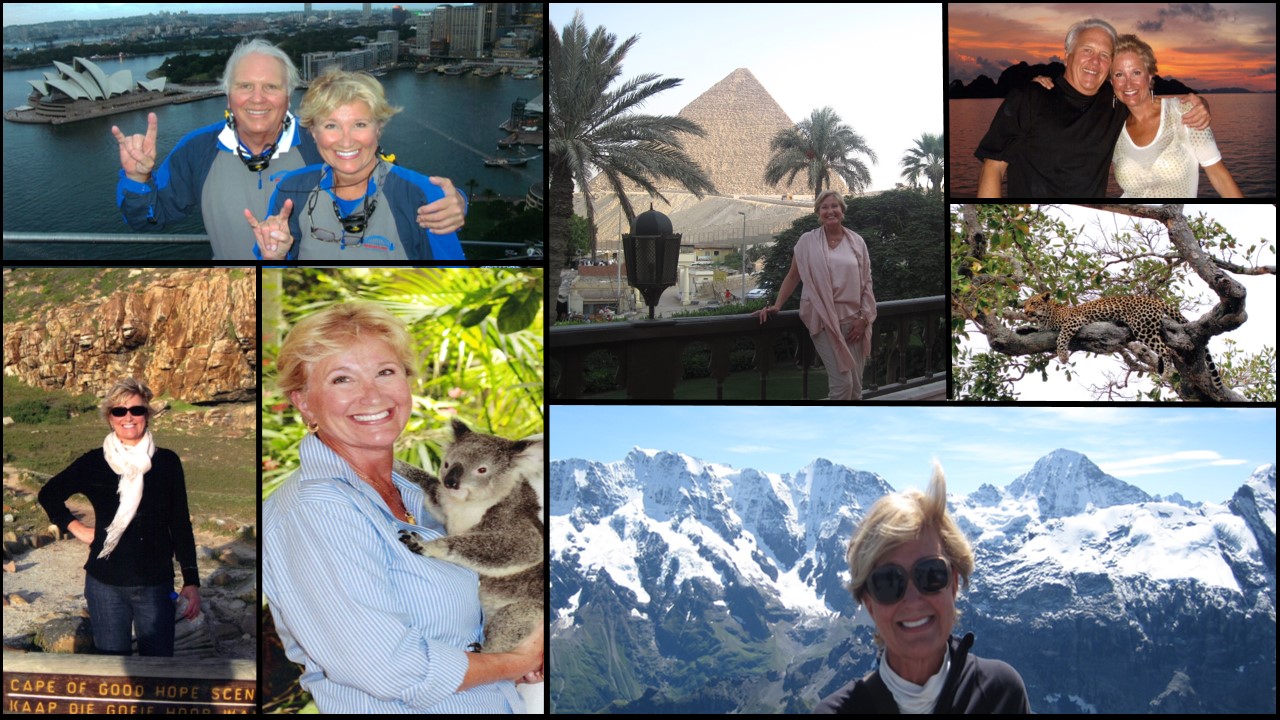 Travel became a serious and constant part of my life in 1979 when I took a trip around the world and was out of the country for 11 months.
Armed only with a new passport, a PanAm around the world ticket with 37 coupons in it, an American Express card, and a world travel guide book, I set off on the adventure of a lifetime.  Those 37 coupons outlined the journey… where I would stop, but they did not specify dates of travel.
That ticket allowed me to spend extended periods of time in countries that I still love and return to today.
I spent six weeks in the South Pacific on islands I had only vaguely heard about, and then another six weeks in New Zealand and Australia, then through Indonesia to Asia including China in the very early days that Americans could visit China, worked on a Cambodian refugee camp in Thailand, recovered from amoebic dysentery in the foothills of the Himalayas, saw a different world in India, marveled in Israel and Egypt, and finished with about three months discovering Europe from the Greek islands to Ireland.  The experiences I had and the people I met were truly life changing.  My motto was "Say yes to everything unless it is dangerous, and then think about it!"  And that is still the same way I approach travel.  It is always the experiences that you don't anticipate that you remember most.  The challenges of travel were daily and it was my job to navigate through that exciting world.
It was pretty hard not to imagine that travel would not be a part of my life after that year so I was lucky enough on my return to buy into the travel agency that helped plan my trip around the world.  That was 1980 in Columbia, Missouri.
1983 brought me to Texas (where I belong!) to open another agency with one of my business partners.  This time we focused on corporate travel and grew that business to 90 employees with corporate in-house locations around the country.  In 2002, I sold that business to my partner and retired…or so I thought!
However, I never tired or retired from traveling and continued to help friends plan their holidays.  In 2010, my husband, Dean, and I introduced luxury cruising into our travel repertoire and became hooked on that mode of travel.  In the last four years, we have spent over 250 days on luxury cruise lines in Europe from the Baltic to the Aegean Sea, South America, the South Pacific, New Zealand, Australia, crossing the Atlantic from Scandinavia to Canada, and a few river cruises for good measure!
Gratefully, Keith opened Departure Lounge's travel agency in Austin TX in 2013, and I decided I would have to go back to work for someone who came up with such an innovative way to sell travel and vacations in Austin!
Right now, matching people with the right cruise line and planning pre and post cruise travel throughout the world allows me to use all of my travel knowledge. People have travel personalities and it is very important to understand what they want from their travels.  I am good at that because I know the destinations, the ships, the hotels, and I have a graduate degree in counseling!!!
I love to sell what I know best, and I am very well versed in Europe including special destinations like Turkey and Croatia.  New Zealand and Australia are personal favorites, and we have just spent 72 days traveling around South America.  I am very lucky to be able to say small, luxury cruise lines and 5-Star hotels have been my home away from home for most of my long career.  But, having said that, because travel is really a huge part of my life, I can find a way to make a three star hotel special! It is almost impossible to say which hotel, or cruise ship, or holiday is my favorite because each trip should try to be planned to be just right for the occasion or the group or the time in my life.  Just having the ability to travel is the important thing and letting people know what to expect is my strength. Also, because of my corporate travel background, putting together incentive groups for companies is something I am quite good at.
For our adventures this year, we are going to Hong Kong for 5 days and then cruising from Hong Kong to Beijing with friends.  After that, we will spend 2 more weeks exploring China including a Yangtze River cruise.  We try to go to our place in Playa del Carmen, Mexico for at least a week every quarter for beautiful beach time, and we will get away from the Texas summer with a week in Aspen, a little time in Europe, and then cruising around Iceland and Greenland for the month of August.
The memories and knowledge I have gained through travel are a huge part of who I am. It is my great reward.
Most of Europe including Croatia and Turkey, Tahiti, Thailand, China including Hong Kong, New Zealand and the East Coast of Australia,
Machu Picchu
Luxury cruises with pre and post add ons, River Cruises, World Cruises or Grand Voyages (over 30 days)
Abercrombie and Kent, Regent Seven Seas Cruise Line, Seabourn, Oceania, Paul Gauguin, Amawaterways, Viking River Cruises, Peninsula Hotels, Mandarin Oriental Hotels, Belmond, Four Seasons
Regent Seven Seas Cruise Line, Seabourn, Peninsula Hotels, Mandarin Oriental Hotels, Belmond Properties
A private yacht along the coast of Turkey; any African Safari with a Capetown add on; France (Bordeaux, the Loire Valley, the Cote d'Azur, and Paris); a 72day cruise around South America