Meet Travel Advisor Mary Hilliard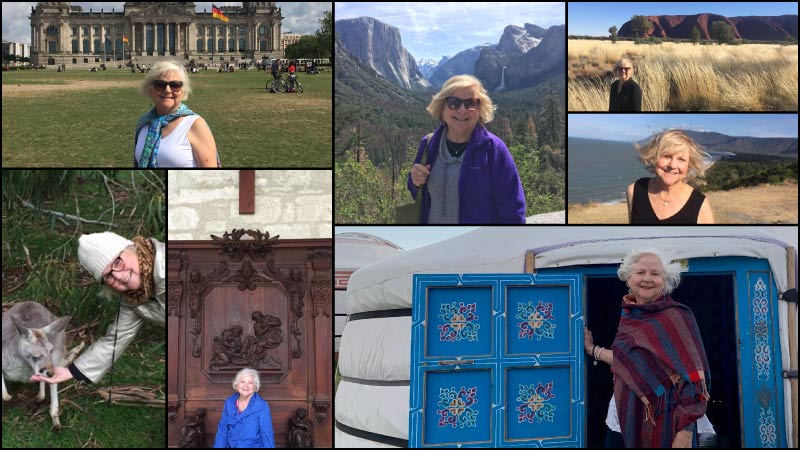 I am a lifelong globetrotter, passionate about sharing the world with others because my own travels have influenced my life immensely.
Growing up in West Texas, our lives revolved around road trips with my family. From California, to the Midwest, to the badlands of South Dakota and to the majestic national parks, the southwest, I never tired of heading out on these journeys.
As a twenty something, I traveled as much as my vacation time would allow, mostly around the US, and to Canada, Mexico and the Caribbean. I eventually quit my job and spent three solo months exploring Europe using a Eurail pass and Europe on $5 a day! These travels changed me forever. Later, my husband and I took our children to see as many places as our budget allowed and eventually, as a widow, I again discovered the world of community which is available to a solo traveler.
I recently planned a round-the-world trip for a friend and me. Countless, enjoyable hours of research kept me awake all hours of the night with excitement and curiosity. This passion enabled me to create an incredible, memorable and, almost flawless trip of a lifetime. As I reflected on how much I enjoyed both the planning process and the actual experience of discovering new places, I realized that this is a passion I want to share with others. This realization inspired me to become a travel advisor, eager to help you plan your next journey. Whether you want to take a trip around the world, need a cruise specialist for a river or ocean, visit historic sites or immerse in nature, I can help you build your dream into reality. Traveling solo? I know all about that. Planning a family trip or a couple's adventure? I've got you covered with access to the best resources and ideas available plus my personal commitment to make it the best vacation possible. No matter your style or destination, I would love to partner with you to make your next journey better than you've imagined.
I haven't been everywhere in the world, but I have covered a lot of ground. Not only have I visited all 50 US states and Puerto Rico, I have also travelled in Canada and Mexico. I know Europe well though multiple trips to England, France, Belgium, Germany, Austria, and Italy. I have also explored Bermuda, Ireland, Scotland, Luxembourg, Netherlands, Spain, Monaco, Switzerland, Poland, Czech Republic, Hungary, Slovakia, Denmark, Greece and Turkey. Further afield trips included Australia, New Zealand and my recent around the globe trip via the Tran Siberian Railroad through Russia, Mongolia and China.
After that list of destinations, it shouldn't surprise you to hear that I have traveled by rail, ship, car and by foot; alone, with large groups, as a couple and with my family, so I know what it takes to plan whatever style trip you have in mind.
As the years have accrued and budget has increased, I have enjoyed the perks and amenities which differentiate the luxury travel I can plan today from the budget car trips and $5 a-day offerings of my youth. One thing hasn't changed however: every trip, every new sight, and every new experience enrich me far beyond the cost, no matter the budget.
US travel
London
England
Russia
China
Australia
New Zealand
Independent travel
Solo travel
Cruises
Girls' trips
Riding a pony in Mongolia after spending the night in a ger ranks pretty high, but it has to compete with seeing sunset at Uluru, rooftop cocktails in Manhattan, and hundreds of other incredible experiences which changed my worldview.