Meet Travel Advisor Lisa Baserga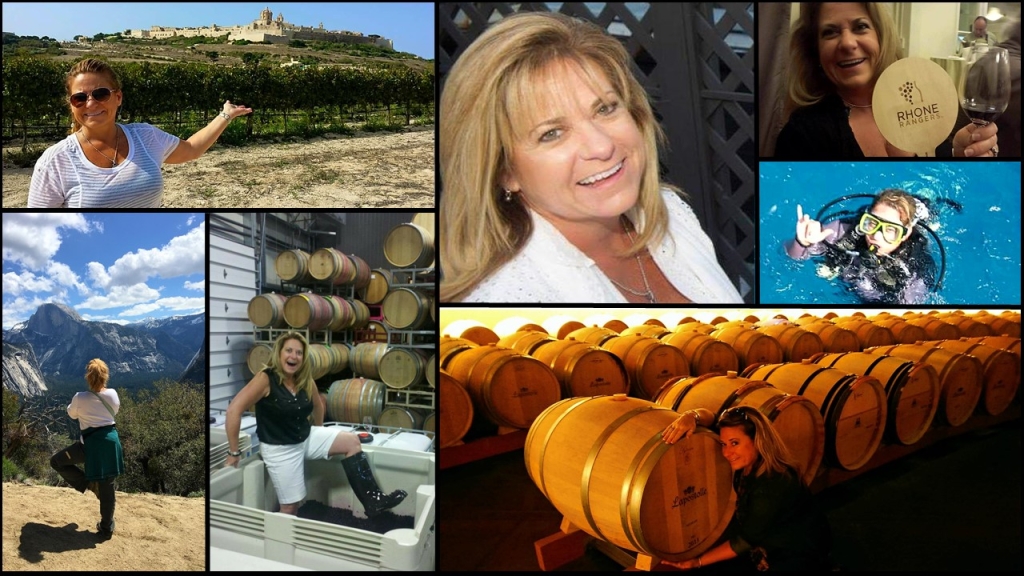 Lisa's mission is to literally provide travelers a taste of the world's most amazing places through wines and foods, and collaborate with local winemakers, farmers and chefs within each destination who are knowledgeable and globally connected to help travelers experience the world at its absolute best.
She has a distinctive focus on wine travel on land and over water, and in 2016 formed a new partnership with "Rhone Rangers" to create exclusive winemaker-led travel experiences around the World.
Lisa's been a trusted travel advisor for over 15 years. Her new venture in travel not only allows her to be part of America's leading non-profit organization dedicated to promoting American Rhone varietal wines, but more importantly to donate scholarship funds to the next generation of wine makers who are in accredited viticulture and enology programs at major universities in this country.
As a regular in the vineyards of Paso Robles and California Central Coast, Lisa also enjoys wine adventures in sensational places like Argentina, Chile, France, Spain and most recently Malta. She's an adventure seeker with a passion for hiking and biking . . . and anything outdoors (or on water). Lisa loves to work hard . . . and play hard . . . and even better if it's both at the same time!
California (Central Coast wine country), South America (Argentina Chile), Europe (Italy, France, Malta, Spain), Caribbean (Turks & Caicos, St Lucia), Oceania (Hawaii, Fiji, Tahiti)
Uniquely focused on rare wine tour experiences led by famous winemakers to include culinary and wine adventures on land and over water – but off the beaten path (hiking, biking, kayaking, diving…and wine!)
Belmond, Fairmont, Four Seasons, Ritz Carlton, Relais et Châteaux, Rosewood, Vik, Un-Cruise, Aqua, AMAwaterways, Oceania, Celebrity, Princess
Un-Cruise; Faena & Four Seasons in Buenos Aires, and The Vines in Uco Valley of Argentina; Xara Palace, Malta; Vina Vik in Millahue wine country of Chile; Hotel Alfonso XIII in Seville, Spain; Amanyara, Turks & Caicos; Four Seasons Lanai and Four Seasons Hualalai, Hawaii; The Wakaya Club, Fiji; Cavallo Point in Sausalito and Meadowood in Napa Valley, California
My favorite trips have ranged from horseback riding through Patagonia and discovering age-old wines in private cellars of Uco Valley, kayaking with whales and winemakers, ultimate four-wheeling through the canyons of Hawaii to plant my own koa legacy tree in honor of my loved ones, biking and hiking through Grand Canyon, Bryce & Zion National Parks, and railing across Spain with fine wines…to name just a few! Never to forget the numerous family reunions with my husband and two sons and our families in Argentina and Indiana, and my parent's first visit ever to Hawaii for their special renewal of vows in Maui before my father passed away from cancer.
I have booked a lot of trips though Lisa she is an excellent travel agent always booking these fantastic airline prices and hotel reservations. Lisa ALWAYS presents me with a complete trip breakdown when I travel. I need help and she delivers. TEN STAR RATING!!!! Ten being the highest.
Incredible customer service experience. Knowledgeable and extremely helpful. Lisa planned my trip and I had an excellent time. I would recommend her to anyone.
Lisa is a wonderful, conscientious, and personable travel agent. She works within your budget, finds value in each and every aspect of your trip and makes sure that it is tailor-made to fit each client. We can always be assured that our trip details are in order and documents in hand in a timely manner. Would not plan a trip without her! Thanks Lisa!