Meet Travel Advisor Lia Kickham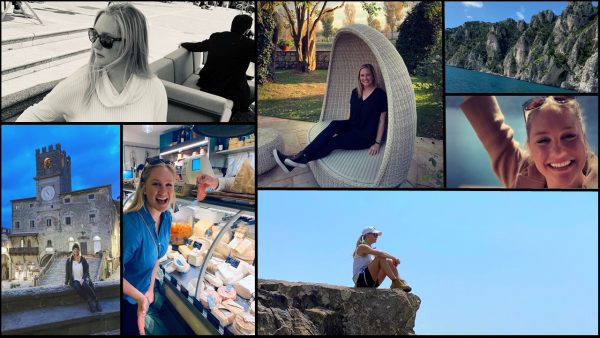 My love for travel actually began long ago with my love for art history. Studying art history introduced me to different cultures and destinations far away. I love the beauty in the differences. I was fascinated with the history of how civilizations and people came to be; why they lived the way they lived, why they loved what they loved, and what shaped their values. The variations in humanity captivate me.
Of course this leisurely pursuit turned into an obsession as I began to travel to new places and actually experience the things I had studied for so long. What better way to experience your hobby than by actually feeling it, seeing it, tasting it? (Emphasis on tasting it… hello Italian wine!)
Feedback from my clients has highlighted that I am thoughtful, caring, and extremely detail oriented. I love helping people travel and experience new things. I oversee every aspect of a trip to perfection and make sure people feel taken care of for the entire process!
My favorite part of my job is anticipating my clients needs. I love connecting them with new and familiar destinations. Sometimes, relentless travel planning can spoil the fun, and sometimes plans go awry. The hard stuff? That is where I excel. The best part is the partners and network I have grown in this industry excel at the hard stuff too. That means the best service and pricing for my clients. A vacation should truly be that- a VACATION from hassle and the worries of everyday life. I love creating a positive experience from start to finish for my clients.
Italy
Turks & Caicos
Mexico
France
Costa Rica
Art
Food & Wine
Family Travel
River Cruising
Grand Tremezzo – Lake Como, Italy
Burgenstock Resort – Burgenstock, Switzerland
La Corte dei Papi – Cortona, Italy
Triple Creek Ranch – Montana
For me, travel is about connection. Connecting to history, people, art, architecture and of course, FOOD. My favorite travel experience of all time has to be Florence, Italy. It has the BEST food, art, architecture, history and people. You can walk the whole city in a day. It is small, yet profound. Even still, you could visit over and over and you would always manage to find new things to soak in. I once visited Florence on a solo trip and immersed myself in every piece of history I could. (Art history nerds, I see you!) One afternoon I lost myself in the Bargello Museum. I loved being alone on this first visit because I could spend as long as I wanted appreciating every minor detail and reading every plaque available.
After escaping in a museum I followed that up with a glass of authentic Italian red wine on the street corner with a breathtaking view. This is soul healing, people! One of my favorite things about travel is stepping into a new environment and culture. It is amazing what we learn about ourselves as we step outside our comfort zone and explore the vast world we live in. Breathe in the air. Eat the food. Connect with others and yourself.