Meet Austin Travel Advisor Kim Shraibati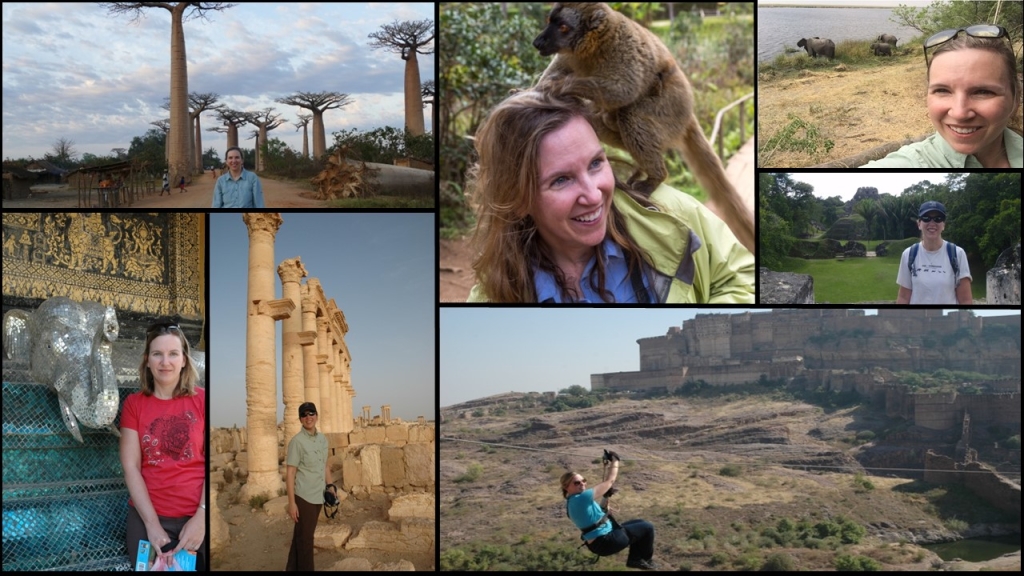 I grew up in Austin and took my first overseas trip to London and Paris with my high school class.  I went to the University of Texas for my undergraduate degree and Pepperdine University for my law degree.  I practiced as a transactional lawyer for over 20 years.  During that time I made travel a priority and have traveled to over 30 countries.  The skills I used as a lawyer, such as attention to detail, efficiency, research and negotiation, will help me plan an amazing trip for you.
I particularly enjoy planning wildlife viewing and other adventure trips, with the right amount of luxury. Africa is a big draw for me and I have traveled to South Africa, Botswana, Kenya, Madagascar and Morocco.  There is nothing quite like sitting quietly in an open jeep close to a large male lion in the morning mist when he calls to another lion across the plain.   I have also been able to watch wild orangutans interact in Borneo, listen to Indri lemurs singing in Madagascar, see tigers in Ranthambore National Park in India and get close to Asian elephants in Sri Lanka and Thailand.
I also enjoy cultural trips and seeing the ruins in Angkor Wat, witnessing the Esala Perahera festival in Sri Lanka, and touring most of the Mayan ruins in Mexico and Central America.  Active hiking trips in Patagonia and horseback riding trips in Italy have also been enjoyable.  A little spa time is also a welcome treat and Rancho La Puerta in Mexico is a favorite. These adventures have all been wonderful life-changing experiences for me and I would love to assist others in experiencing these types of activities.
Sometimes I travel with my husband, sometimes with friends, sometimes with my mom, and sometimes by myself.  Whether you are building memories with loved ones or learning about yourself on a solo trip, it is always an adventure.  I think travel can be life-changing and life-affirming.
I am constantly reading about the best places to go, fantastic places to stay and new experiences.  Using my experience and Departure Lounge's resources and connections I can offer value for money and help you optimize your time on a fantastic adventure.
Southeast Asia
Southern Africa
South America
Wilderness Safaris
Amantara
Explora
Natural Habitat Adventures
Wilderness Travel
Lindblad
Amantara Golden Triangle, Thailand
Raas Jodhpur, India
Khem Villas Ranthambhore, India
Explora Patagonia, Chile
Riad Ilfoulki Marrakech, Morocco
Borneo Rainforest Lodge
Chitabe Camp
Little Vumbura
Duma Tau Camps, Botswana
Wilderness Safaris, Botswana
Traveling down the Mekong and spending time in Luang Prabang, Laos
Wildlife trips to Madagascar
Wildlife trip to Borneo
Cultural trip to Rajasthan, India
Horseback riding through Chianti region of Italy
Kim is amazing. Her knowledge, travel experience and connections with local experts was invaluable. We traveled to Greece (2019) for 13 days, visiting Athens, Naxos and Mykonos. We had flights, ferry trips, tours and guides planned throughout our trip and everything was flawless. We didn't experience a single travel issue and were thrilled with everything that was recommended from hotels to experiences. We have traveled internationally several times but I can't imagine taking another trip without having Kim's support!
Easy to work with, listens very well, responds quickly to questions. Everything on the trip was perfectly organized and everywhere we went we had a good time and no worries.
Kim listened to our ideas and translated our sketchy fragments into hopes and dreams for our bucket-list trip to Patagonia. She found the ideal lodge with the ideal excursions delivered with a vegan diet. Impressive!
Kim was helpful, knowledgeable and very responsive (even when she was overseas). We had picked an exotic, bucket list destination and bought a guidebook, but we had only big picture ideas about what parts of our destination country we wanted to visit. Kim had fantastic suggestions for hotels, tours and activities, and she patiently worked through a few iterations of a proposed itinerary as we made our selections. She even managed to plan an activity on our last day in-country that worked perfectly with a late flight (we would have missed that opportunity without her help). I highly recommend Kim for travel services. We will definitely work with her again.