Meet Travel Advisor Ginger Nelson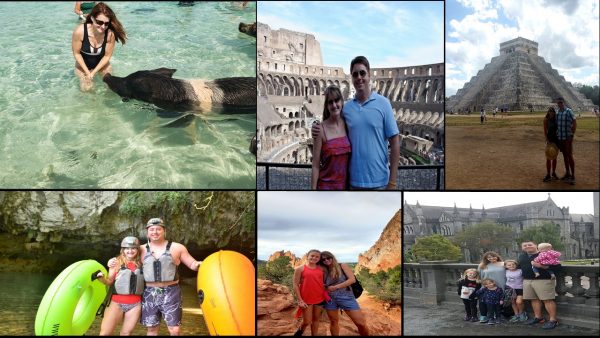 As a child, I knew my sense of adventure was big and that my curiosity would lead me to explore the world. Although most of my traveling as a child was simple road trips, I learned so much about the beauty of nature, learning different cultures, and living an authentic life. Now as an adult, I have toured across almost all US states, Mexico, the Caribbean, Central America, Europe, and Australia. I love the freedom traveling gives me to uncover little treasures and connect with local citizens. Some of my favorite experiences include diving in the Great Barrier Reef, exploring the canals of Venice, hiking along the Cliff of Moher, cave tubing in Belize, watching a sunset in St. Lucia, and skiing with my kids in Colorado.
As a wife and mother of four active girls, our family schedule is hectic, but traveling is a priority in our household. We started early traveling with our children with our favorite trips being skiing in Colorado, touring all of Ireland, and swimming with pigs in the Bahamas. It does take a lot of coordination to plan family adventures, yet they are truly priceless. I love helping other families make their destination bucket lists come to life. It never gets old hearing clients say their trip was more precious than any toy or gadget they could ever purchase.
As a former media manager, I know how important it is for employees to a take a break and decompress, however; time is limited in planning a vacation. I am here to take the planning burden away from you and research your next desired getaway.
I am your resource and guide in creating your custom-tailored itinerary and digging up destination you didn't even know existed. Let's start your journey!
Caribbean & Beach
Central America – Belize & Costa Rica
Europe – Italy & UK
US Ski & Mountain Destinations
Family & Multi-Generational
Active – Ski, Hiking & Diving
Special Celebration Trips – Anniversaries, Birthdays, Girls Getaways
Small boutique resorts & hotels
My favorite trip I've planned so far was a Thailand/ Vietnam trip surrounding a Cambodia medical mission for 3 nurses.  They splurged on  five star, private adventures pre and post their mission which allowed them to beat any crowded tours, visit 3 different regions and have unique once in a lifetime experiences.