Meet Travel Advisor Eileen Schlichting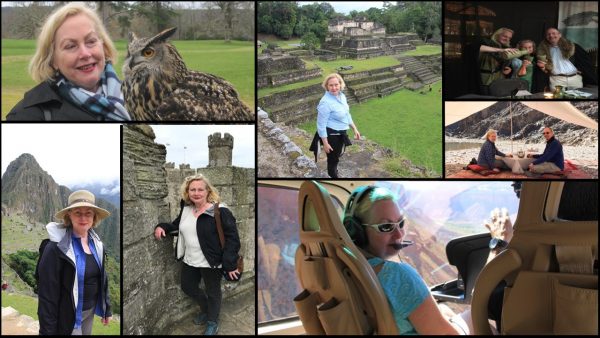 At the age of four, my first plane ride took me from the US to the wild hills of Donegal, Ireland, where I met my father's family.  No leprechauns were sighted, but it was a magical experience, full of castles, storytelling and an unforgettable Irish welcome.
Ever since, I've traveled every chance I could get.  I'm passionate about history, art, architecture and literature the way my friends follow their hometown teams.  While a history major at Bryn Mawr, I immersed myself in Italian culture during a semester in Florence.  That taste of "la dolce vita," the sweet life, changed me forever.  It's one thing to read Renaissance history, and another reality altogether to savor gelato in the shadow of the Duomo.
Travel is my change of life career — following years of work in writing, communications and community outreach.  And life-changing experiences are just what I work to craft for my clients.  At Transatlantic – Curated Luxury Travel, our goal is to design your trip with eye of an artist.  Based in the Washington, DC area, Transatlantic specializes in personal, cutting-edge travel for those who travel solo, with family, partners or great friends.  We're proud of our affiliation with Departure Lounge, a top Virtuoso agency, and our 15-year membership in Virtuoso.
As wonderful as travel is, the elements that go into a beautifully planned trip can be overwhelming and stressful.  That's why you need an expert.  It's our job to get to know you, so that we can fine-tune the details, and you get to enjoy a trip that fits you like a glove.  We'll focus on how you like to travel, the hotels that will make you smile, inspiring landscapes and the activity level that suits you best.  We'll draw on our contacts the world over to make sure that you have a fabulous time, and include the little extras like dinner reservations, time for spa treatments, a packing list for your adventure, and personal follow-up during and after your trip.  While you are traveling, our favorite jet-lag remedies are a relaxing massage, yoga sessions, and a great workout.
I'm blessed to have a travel-loving, foodie family.  My husband John loves hiking and cruising, and we've traveled all over with our two sons, John and James.  Now that they are in their late 20s, travel is when we make new memories.  As my older son John is a sommelier, and my younger son James an avid hiker, we always include time for wine tasting, great meals and exploring by foot.
I would love to show you how joyful travel can be when you work with an expert!
US: Alaska and Hawaii
Caribbean
Mexico
Europe: Italy, France, Spain, Portugal, UK, Ireland, Austria, Switzerland, the Netherlands and the Czech Republic
S. America: Argentina, Chile, Peru and the Galapagos
Africa: Morocco, Botswana, Kenya, Tanzania and South Africa
Oceania: French Polynesia, Australia and New Zealand
Custom Itineraries
Honeymoons and Celebrations
Adventure Travel, Hiking, Biking
Family Travel
Food and Wine Focused Journeys
Spa and Wellness
Culture, Art & Architecture
River and Small Ship Cruises
Four Seasons Hotels, Resorts and Villas
Relais et Chateaux
Canyon Ranch
Miraval
Backroads
Butterfield & Robinson
Silversea
Seabourn
Paul Gauguin
Crystal River Cruises
Seadream Yacht Club
Cunard
Four Seasons Bora Bora
Belmond Maroma on the Riviera Maya
Ashford Castle, Ireland
Blackberry Farm
The Gritti Palace, Venice
The Four Seasons Tented Camp, Thailand
Andaz Maui at Wailea
Sol y Luna in the Sacred Valley of Peru
The Ventana Inn, Big Sur
Sundance Mountain Resort, Utah
I believe that every trip is a delight but there is a special joy to discovering new cultures and countries.  One of my favorite memories is of swimming in the gorgeous waters of Bora Bora, while cruising on the Paul Gauguin.  Discovering Venice from a private speedboat and feeling like James Bond.  Staying in a castle in Ireland.  Getting up close with lions, rhino, elephants, monkeys and cheetahs while on safari in Africa.  Touring and tasting vineyards in Napa, Sonoma, Paso Robles, Willamette, Tuscany and Chile. Hiking in Zion and Patagonia.  Climbing Huayna Picchu for a spectacular view of Machu Picchu below.  Touring castles and museums all over Europe.  Discovering old and new art in Antwerp.  Ending the day with an indulgent tasting menu at a Michelin star restaurant, whether in New York or on the Amalfi Coast.