Meet Austin Travel Agency Advisor Crisney Lane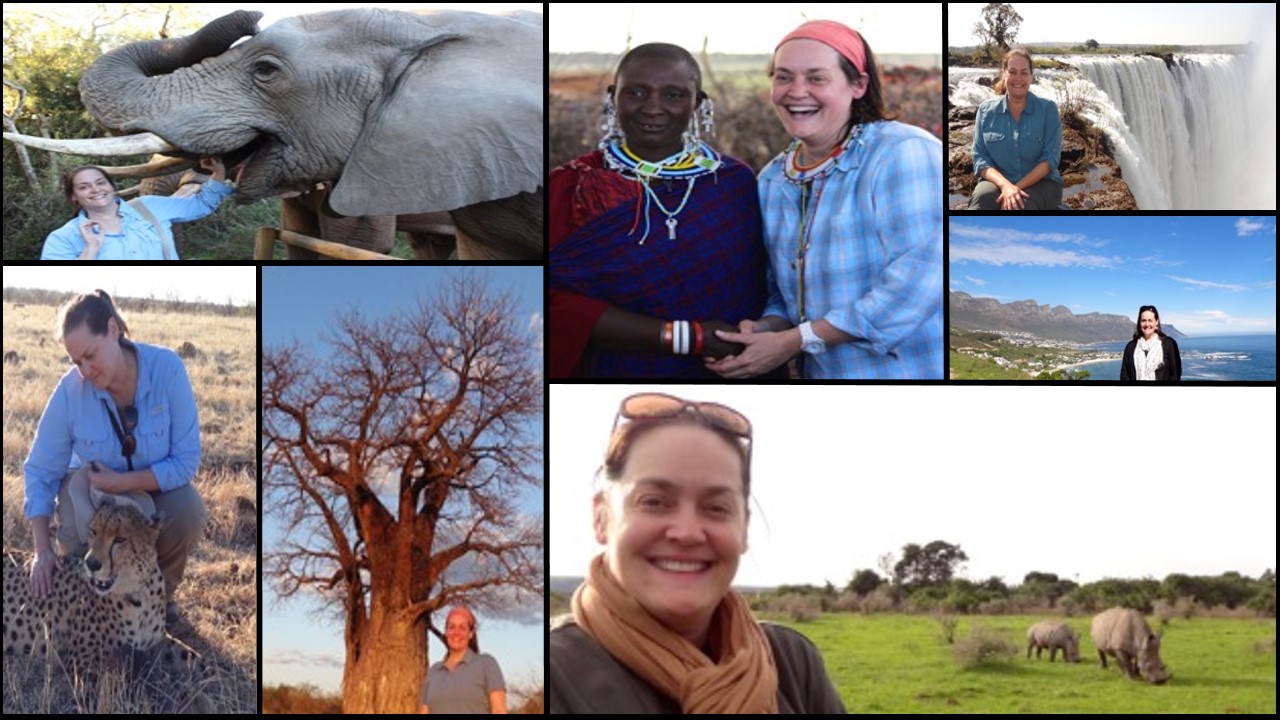 The allure of travel has defined me since I was a teenager and went to Sweden as an exchange student and my family had 4 different international students live with us.  I traveled Europe during the summers of my early university days and then studied in France for my junior year.  I returned to the University of Texas convinced that I would move back to Europe after graduation.
Fate and my intense curiosity intervened and my next trip overseas would be to South Africa—I was in awe of this beautiful and intriguing country and felt that I found my soulmate.
My story is now completely interwoven with Africa, and since 1988, it has been my second home. I studied at the University of Cape Town in the early 1990's – a time when the future of the country was being negotiated and decided. And I traveled, exploring as much as possible to see places and meet people. I backpacked from Cape Town to Cairo over the course of a year (that journey is the stuff of legends and many dinner party stories!). Throughout my travels in Africa, I experienced the hospitality of the people and the diversity of the landscape. Every day, I fell more in love with Africa.
After attending Nelson Mandela's inauguration on that historic day in Pretoria, I was determined to make a positive contribution to Africa. That goal led me to get an International MBA from Thunderbird School of Global Management in Phoenix, Arizona – and then quickly return to my beloved Africa.
Once back in South Africa, I worked in the emerging mobile telecommunications market. I worked in over 15 countries, negotiating mobile telecom licenses to build the infrastructure that would change the face of communication on the continent. It was an incredibly exciting career. In my work-related travels, I had the opportunity to stay in many luxurious lodges and camps, go on all types of safaris, meet tribal leaders, and become familiar with some of the most beautiful savannahs, beaches, winelands, and cities in the world.
Now, back in Texas since 2011 (my family is thrilled!), Africa remains an integral part of who I am. There's still much to be discovered and an endless stream of magic that needs to be shared.  My favorite safari areas of East and Southern Africa offer the most incredible wildlife and landscape experiences and that is the part of the world I know best.
I want to share my passion for traveling in Africa and that is why I started  Mosaic Safaris and why I joined the Austin Texas travel agency of The Departure Lounge—I want you to enjoy an authentic African experience so you can come to know and love Africa as I have.
Southern Africa including South Africa, Namibia, Botswana, Zimbabwe, Zambia & Mozambique; East Africa including Kenya, Tanzania (Zanzibar), Rwanda & Uganda; France; Amsterdam; Australia & New Zealand
African Safaris, Exotic Journeys
Singita, Wilderness, &Beyond, Fairmont Africa, Micato, Sanctuary, More Properties, Thornybush, Azura, A&K Africa and lots of independent Africa brands
Impossible to choose. Love Singita Sabora Tented Camp in the Serengeti, Richard's River Camp in the Mara, Ulusaba in South Africa & Tongabezi in Victoria Falls Zambia. Vumbura Plains in Botswana. Oh my, it is impossible to select from all the amazing lodges!!
My first safari trip to Botswana. I was in awe at every aspect of this unique country: the beautiful landscapes, the incredible luxury of tented accommodation, very friendly people and amazing wildlife experiences with hardly anyone else around!
Crisney was a delight to work with – knowledgeable, enthusiastic, and highly responsive. This was our first trip to Africa and we needed a lot of information. I described what we were looking for and Crisney came back to us with options that eventually turned into the perfect itinerary. It's clear she has tremendous passion for her work and she is highly qualified. She shows great attention to detail, was able to work within our budget, and was incredibly attentive throughout. She does it all with a wonderful personality and was a joy to work with.
Crisney made it exceptionally easy and fun to make the travel arrangements and the resultant trip was exceptional in all regards. The accommodations and personnel she arranged were outstanding. One of the best trips I have ever made to South Africa over the past 30 years. Crisney's bubbly personality and her first hand knowledge of South Africa make her travel service unique.
Mosaic Safaris coordinated the perfect trip for myself and my friends. We had a wide range of experiences that allowed us to take in the beautiful landscapes and witness the amazing culture of South Africa. This was the best trip of my life!
Crisney arranged our first trip to East Africa and it was more than we could have imagined! We were so well taken care of along the way with great guides and lodges and all the details fell into place. I would recommend Mosaic Safaris without hesitation, Crisney has great advice and knowledge of Africa.
I want to thank you for the best trip of our lives. I can't thank you enough for all your help organizing everything. I have been recommending you to all our friends!