Meet Austin Travel Advisor – Becky Robinson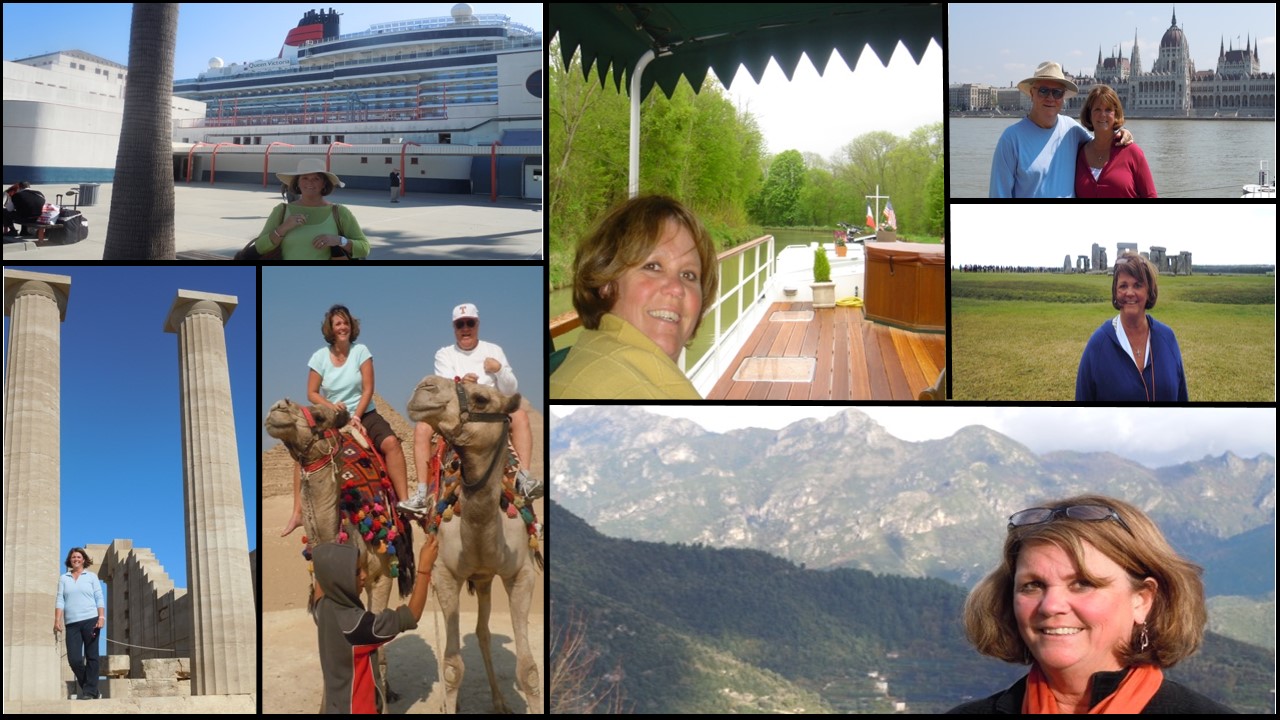 My parents loved to travel and instilled that love in me from an early age.  As a child we traveled primarily within the U.S. visiting many National Parks, Colorado, and Santa Fe.  I remember camping in Yellowstone and being greeted by a bear in the early morning!  Not something you forget!
As I got older I continued my travels throughout the U.S. and to England, Scotland and Ireland.  I went on a safari in Africa in 1988 and it still ranks as one of my favorite trips.  Most of that safari was in tents and being able to experience the African wildlife in their natural habitat was truly special.
I was lucky enough to marry a man who loves to travel as much, or more, than I do.  So together we have been on many journeys.  I have visited all 50 states, Canada, Mexico, all the continents, except Antarctica, and that's still on my list!
After my career with AT&T, my husband and I retired and our travels have continued.  We spent six weeks in New Zealand and Australia experiencing life down under and have been on several cruises, including the Panama Canal, the Mediterranean Sea, the Caribbean, 3 Transatlantic Voyages and River Cruises on the Danube and Columbia River.  We also went on a barge trip in France – a very special trip!  We love the California wine country and are well versed in the wine industry.  We have also spent time in France, Switzerland, Germany, Spain and China to name a few of my favorites.  We went on a golfing trip to Scotland and Ireland and enjoyed the British Open while we were there.
I could go on and on as travel is a very important part of who I am.  Traveling has taught me how much the world and the U.S. have to offer.  The National Parks in the U.S. are truly special gems that all citizens should take their time and visit.  Traveling internationally has taught me about the various cultures of this world and how even though very diverse we all have common goals and interests.  I now work for an Austin TX Travel Agency and have grown because of my travel and I thank my parents for planting that seed.
Ocean and river cruising around the world.  Land destinations including: Italy, Ireland, Scotland, England, France, Spain, Portugal & the U.S.
Cruises – About 75% of my travel itineraries are for cruise bookings, both ocean and river.  I also book pre and post trips associated with cruises.  In addition to cruising I book land adventures to many countries as well.

Luxury & deluxe cruise lines – ocean, river and barge.
My favorite ship is whichever one I'm on or is coming up next!  I love to cruise.  I do love the Queen Mary 2 and the Transatlantic Crossing – what an event.  I have been on over 30 cruises and have not been disappointed yet.
Baltic cruise, South America cruise – and my African safari was special.  Our trip to Australia and New Zealand are close behind Africa.
Our trip was wonderful. Atlantis is an amazing place. It did not disappoint us at all. The pools, dolphin adventure, snorkeling, room, aquariums, food, just everything was unbelievable. Everything about Atlantis was spectacular. Everything you set up for me was perfect. I had no problems or worries at all. Thank you for such a great job. It really took all the worry out of my trip. I will definitely use you next time I plan a trip. You will have to put Atlantis on your bucket list. It will not let you down. They even had a casino and a free movie theater. It is a massive, beautiful place. Thank you for all your hard work.