Faena Hotels are a glittering icon in the cities that they reside in. From Locations in Miami Beach, to the gorgeous destination of Buenos Aires, they are sure to create an unforgettable experience to all those who grace them. Faena Hotels specialize in creating a unique holistic experience for all those that visit, with the epicenter of that experience being rooted in culturally responsible projects, eclectic spaces, and unforgettable cultural experiences. To stay in a Faena Hotel is not only to be dazzled by the numerous platforms for personal expression, but to also be transformed, mind, body, and soul, as you embark on a vacation that not only serves as an escape from the everyday, but a vacation that delivers you back to your life with a transformed sense of being.
Faena: The Brand You Can Trust to Deliver Refined Luxury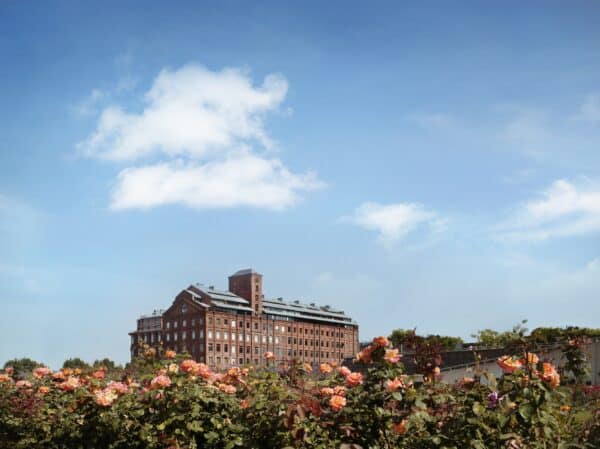 Faena Hotel Buenos Aires
Located in the waterside neighborhood of Puerto Madero and a short walk to the city's major tourist attractions, Faena Hotel Buenos Aires redefines the travel experience by combining art, recreation, nature and technology. The hotel's 88 rooms and suites feature exquisitely designed details, sophisticated technology and exceptional services. Oversized windows invite you to enjoy the magnificent views of the skyline, parks or Río de la Plata. Unique room layouts features custom ivory leathers, deep red accents and warm brown furnishings. Amenities include LCD televisions, complimentary wireless Internet and Egyptian cotton linens.
The hotel's amenities include five restaurants and lounges. Faena Hotel Buenos Aires is an epicurean destination with dining experiences ranging from an authentic estancia-style asado barbecue at El Mercado to contemporary Argentinean cuisine at the Phillipe Starck-desgined Bistro Sur. A staple in the Buenos Aires social scene, craft cocktails and bottles of Malbec are sipped nightly at the chic Library Lounge and outdoor on the terrace at stunning Poolbar. Sizzling with seduction and awash with red velvet, El Cabaret is home to the world's most riveting tango show—Rojo Tango. Faena Spa, an oasis of holistic therapies for the spirit, mind, and body, blends ancient healing rituals from around the world to awaken consciousness and restore wellbeing.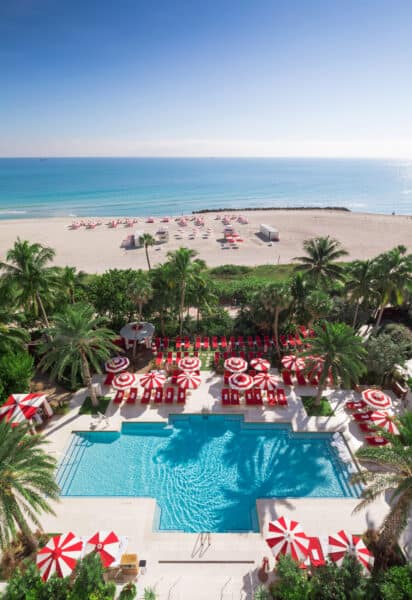 Faena Hotel Miami Beach
Situated right above the breathtaking turquoise waters and white sand of the well known and loved Miami Beach, Faena Hotel Miami Beach offers an unforgettable design, 5-Star rated service, and the desire to make every guest feel as though they are a star. Faena Hotel Miami Beach is the perfect choice for travelers who want to enjoy all the best that Miami has to offer. The hotel's stunning design, luxurious amenities, and world-class service will make you feel like a VIP from the moment you arrive. Everywhere you look, there are accents of gold and Faena's signature red, the over the top luxurious feel is executed in all the right ways. The hotel features furnishings that recall the period of Art Deco in a stunning and new way.
Experience the art of open fire cooking at Los Fuegos by Francis Mallmann, or tempt your senses at the Filipino inspired restaurant Pao by Paul Qui. All these decadent services and more will serve as the perfect way to satisfy your vacation induced cravings all while in close proximity to the delightful Miami Beach. With its convenient location and wide range of top-notch facilities, Faena Hotel Miami Beach is the perfect base for exploring everything this vibrant city has to offer. Book a stay in one of the hotel's signature suites to enjoy complimentary daily breakfast, Faena Butler Service, Tierra Santa Healing House treatments, exclusive offers at Faena Theater and Faena Bazaar, and much more!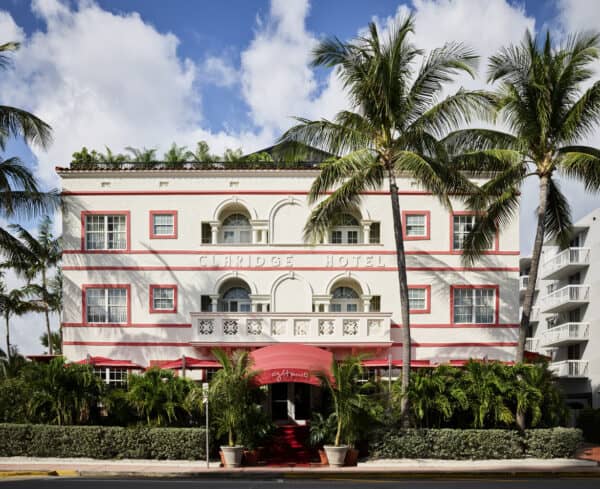 Casa Faena
Casa Faena is a truly unique and awe-inspiring beachside bungalow. Designed as a residential style hotel, Casa Faena is nestled in the heart of Miami Beach's vibrant Faena District where tropical nightlife can be experienced in the finest of ways. Casa Faena exudes old-world charm with design influences inspired by Spanish art. This historic hotel is just steps from the ocean and provides the perfect backdrop for modern Art Deco style. Artisanal touches and Mediterranean-inspired decor await in each of Casa Faena's welcoming residential style guestrooms. Make yourself at home and surround yourself with color schemes that exude restfulness, exquisitely carved custom furniture, hand-woven and inexplicably cozy bed throws, and warm, attentive guest service.
The sun bathes the guest rooms, providing a welcoming and luxurious experience for every guest, while the atrium at the hotel makes one feel like they are right in the living room of a home in the hills of Hollywood. Casa Faena is built on a simple idea of providing Miami Beach with an escape from the mundane with a welcoming beachside retreat. Experience the taste of Tulum at Gitano, with tropical inspired dishes and cocktails that reminisce of gypsy- disco sounds. Or step into a totally renewing experience at the Tierra Santa Healing house, where experts in shaman – developed rituals will deliver an experience to you that is infused with the latest treatments in physical and mental revitalization.
Experience the Perfect Blend of Hotel & Resort Life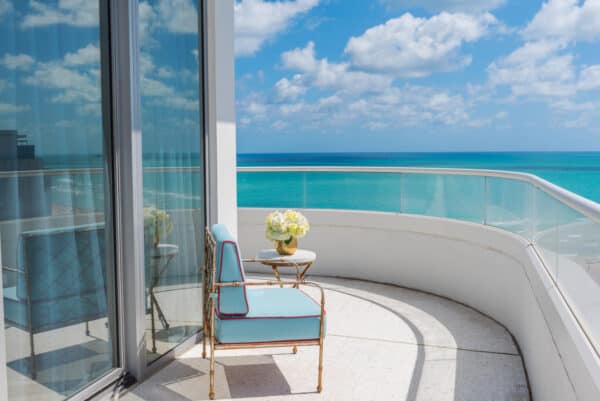 As a world-renowned leader in the lifestyle and hospitality industry, Faena creates unique districts that blend a hotel and resort experience with local history and culture. With each large-scale vibrant district, Faena has the power to shift the gravitational center of each destination to become a new community epicenter. Founded by Alan Faena, Faena specializes in experiential retail, healing and wellness, cutting-edge art and culture, and original entertainment. Our urban design expertise, bespoke architecture, and innovative culinary concepts provide guests with a one-of-a-kind experience. The power to impact the communities that these luxurious hotel & resorts reside in is one of the reasons that Departure Lounge decided to partner with Faena. The bespoke hotels & resorts that provide visitors with innovative experiences in the culinary arts, healing and wellness, as well as entertainment truly sets Faena Hotels & Resorts apart from others.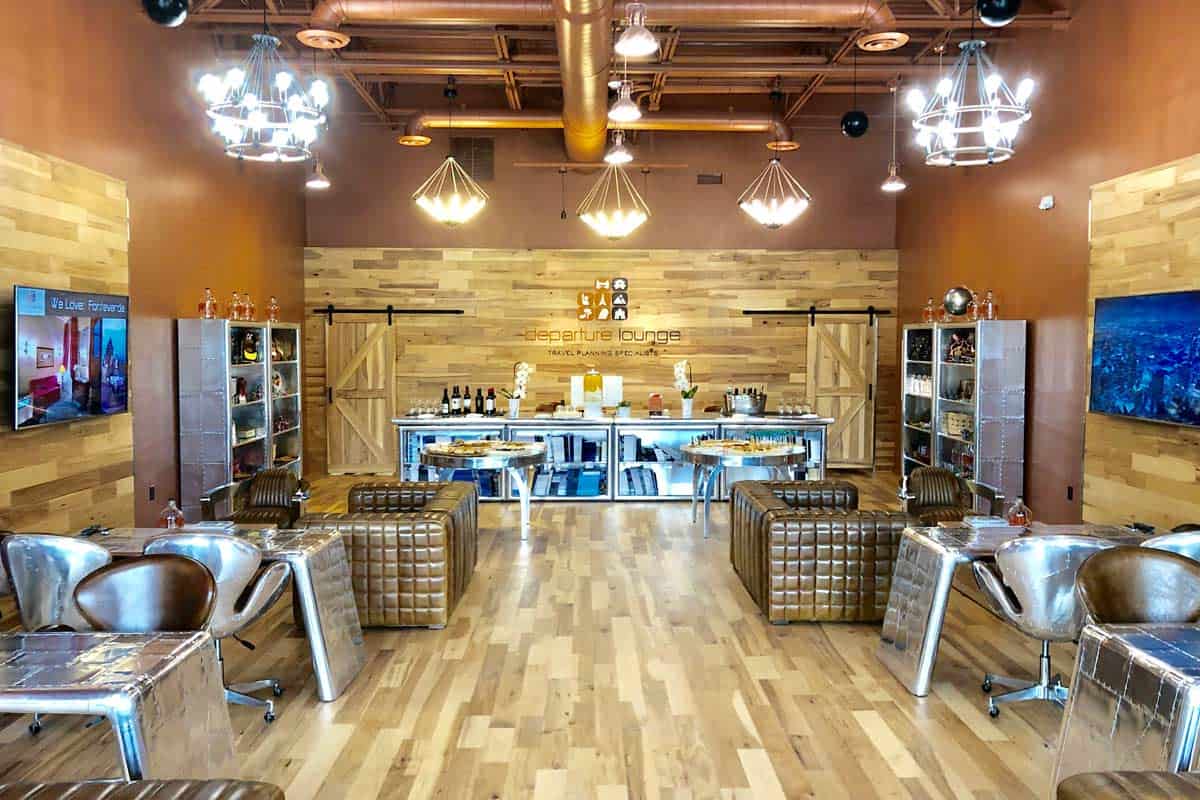 Departure Lounge is your resource for fun and exciting travel experiences. We focus on creating unique and personally tailored vacations and experiences for all of our clients. We take into account your expectations and desires when it comes to your vacation. Each detail that goes into planning the perfect vacation or getaway will be treated as equally as important in knitting together the perfect experience. By partnering with brands such as Faena, we gain exclusive access to perks, special deals, and exclusive access to events at each Faena Hotel & Resort. The packages we offer are exceptionally exclusive, and that is a promise. Combine that level of exclusivity with our love for travel and our love for providing you as our client with the best possible experience are a few of the many reasons why you should choose Departure Lounge to take care of all the details when it comes to planning your next getaway!