Itinerary
Itinerary Summary
Date
Port of Call
Arrive
Depart
Tues, Feb 19, 2019
Port Everglades (Fort Lauderdale), FL
5:00pm  Private Cocktail Reception
8:30pm  Dinner (group sits together)
 board by 2pm
4:00 PM
Wed, Feb 20, 2019
Key West, FL
10:30am  Disembark ship
11:00am  Arrive wedding venue (ceremony starts shortly after)
8:30pm   Dinner (group sits together)
7:00 AM
4:00 PM
Thur, Feb 21, 2019
Nassau, Bahamas
8:30pm  Dinner (group sits together)
 11:00 AM
 6:00 PM
Fri, Feb 22, 2019
Sea Day
8:30pm Dinner (group sits together)
 
 
Sat, Feb 23, 2019
Port Everglades (Fort Lauderdale), FL
9:00am must disembark by this time
 7:00 AM
 
 
 
 
 
DAY 1: Monday – February 18, Arrive Fort Lauderdale
Arrive at the specially chosen hotel for the group in Fort Lauderdale. Close to the pier, we will have a hotel available with special group rates. Arrive the day before the cruise to start the celebration early.
Day and evening on own.
DAY 2: Tuesday – February 19, Embarkation Port Everglades
Transfer from hotel to Celebrity Cruises Port Everglades pier
2:00pm     Embark by 2pm for Giana & Kenny's wedding cruise!
5:00pm     Private Cocktail Welcome Reception
8:30pm     Dinner in main dining room (group sits together)
DAY 3: Wednesday – February 20, Key West
Transfer from ship to Giana & Kenny's wedding ceremony!
10:30am  Disembark ship
11:00am  Arrive wedding venue (ceremony starts shortly after)
Return to the ship to continue the celebration
8:30pm     Dinner in main dining room (group sits together).
DAY 4: Thursday – February 21, Nassau
Spend the day in Nassau. Select from over 30 shore excursions ranging from golf outings to snorkeling to swimming with dolphins to a day on the beach, and much more!
8:30pm     Dinner in main dining room (group sits together)
DAY 5: Friday – February 22, At Sea
Enjoy the many activities, pools, spa, fitness center, shopping boutiques, entertainment venues, restaurants and bars aboard the Celebrity Infinity.
8:30pm     Dinner in main dining room (group sits together)
DAY 6: Saturday – February 23, Arrive Fort Lauderdale
Disembark by 9 am and transfer to homeward bound flights.
---
Ports
Fort Lauderdale, FL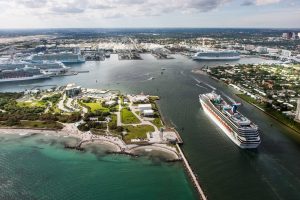 Fort Lauderdale lies along the Atlantic Ocean at the mouth of the New River, 25 miles north of Miami. Its warm tropical weather attracts many people throughout the year. For sun-worshippers, the city has six miles of beaches. There are also many recreational waterways with extensive boating facilities, access to every conceivable watersport, a variety of fascinating museums and trendy restaurants, and an array of entertainment venues.
Key West, FL
Ernest Hemingway made wild, colorful Key West his home, and you will want to do the same. Home to modern-

day adventurers, artists and poets, the island's charming Old Town teems with restaurants, bars and unique shops. Add pristine coral reefs, coconut palms and a laid-back attitude that's truly contagious, and it's easy to see why so many visitors to Key West never leave.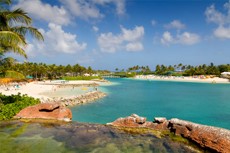 Nassau, Bahamas
With dazzling beaches, turquoise waters, colorful past and vibrant Junkanoo culture, Nassau is a great place to sun and sightsee. The city is on New Providence Island; just offshore is Paradise Island, home to luxury hotels and resorts. Visit the luxurious Bahamian resort, Atlantis, on Paradise Island. Interact with amazing dolphins at Blue Lagoon Island, one of the largest dolphin habitats in the world. Go on a glass-bottom-boat tour for a glimpse into the underwater world of the Bahamas. While in Nassau, experience the wonders of a majestic coral reef or the intrigue of a sunken wreck on a dive excursion.
---
Pre-Cruise (Air, Hotel, Transportation)
It is always recommended that you arrive the night before the cruise to ensure that you do not miss the boat. For those of you that wish to follow our recommendation, we have negotiated an exclusive group rate to stay the night before the cruise at the following hotels (additional nights available). MUST CONTACT AVA WINE ADVENTURES TO MAKE RESERVATIONS AND GUARANTEE THE GROUP RATE AND EXCLUSIVE AMENITIES. We can assist you with all  your air reservations as well, so please let us know if you need airfare assistance. 
DEADLINE: January 4, 2019
Group reservations must be received on or before 4 Jan 2019. Any reservations received after the deadline will be accepted on a space available basis only, at the best available rate (special group rate not guaranteed after Jan 4th).
PAYMENT: Credit Card
OCCUPANCY RATES: based on double occupancy; triple or quad additional fee; hotels do not provide rollaways; maximum 2 occupants in one King-bedded room, maximum 4 occupants per Double-bedded room.
Check-In: 4pm   Check-out: 11am
Cancellation Policy: Cancellation must be made 72 hours before arrival date. Deposits are refunded or credited only if notice is received 72 hours prior to arrival date and cancellation number must be obtained by guest.
LOCATION: Both hotels are located on same side of Fort Lauderdale as the Celebrity Pier, so no concerns with traffic delays crossing the bridge at 17th St.
Cruise Port – 2 miles
FLL airport – 2 miles
MIA airport – 29 miles (1hr) 
UBER: is available at FLL (see shuttle information below)
HYATT PLACE Fort Lauderdale 17th Street Convention Center
Address: 1851 SE 10th Ave (Harbor Shops Drive West), Fort Lauderdale
This casually chic hotel in Ft. Lauderdale is minutes from beaches, golf courses, walkable restaurants and shops (Harbor Shopping Plaza next door) and near the famous Las Olas Boulevard. There is a 24/7 Gallery Market on site with free breakfast, a swimming pool and 24/7 fitness center.
RATE: $189/per night (plus 12% taxes)
ROOM TYPE: Run of House – either one King or two Double sized beds, separate living area with full sized pull-out sleeper sofa, wet bar and desk area. (375-425sqft)
Exclusive Amenities: Complimentary hot breakfast and Wi-Fi
Parking: discounted rate of $5.00 per night
Airport Shuttle: $2.00/per room each way
Cruise Port Shuttle: $7.00/per person each way  
HILTON Fort Lauderdale Marina
Address: 1881 SE 17th Street, Fort Lauderdale
The Hilton Fort Lauderdale Marina Hotel is located on the Intercostal Waterway and adjacent to a marina, with wonderful views of an active coastal water system. It is walking distance to several restaurants and bars on Cordova Road and has a free shuttle to take guests to the beach. There are two bars and three dining facilities on site. There is a pool, fitness center and jogging/walking trail.
RATE: $239/per night (plus 12% taxes)
ROOM TYPE: Marina Standard – either one King or two Double sized beds, small living area. (350sqft)
Exclusive Amenities: Complimentary Wi-Fi
Parking: discounted self-parking $15 per night; $32 valet
Shuttle: contact Quick & Safe, 954-234-7856 to make arrangements for shuttle transfer to Port Everglades Cruise Port or to the Airport. (approx. $16 total up to four people airport; $6 per person cruise port)
---
Shore Excursions
Key West, FL
Wedding Day! If you are an early riser you'll have time to explore the historical old town of Key West before 10am. We do not recommend scheduling any excursions this day.
Nassau, Bahamas
Celebrity offers over 30 shore excursions, which we can help all wedding guests book prior to your departure. We can also create a personalized group experience. Choose to explore on your own, or for a full list of shore excursions, click here "Nassau".