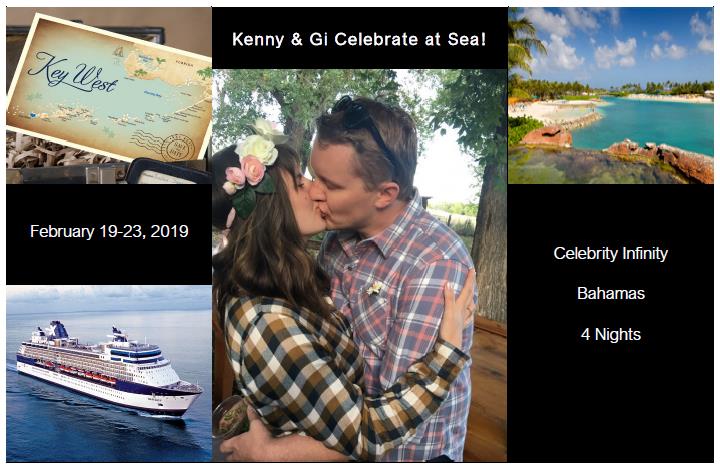 THIS IS HOW WE DO "I DO"
Commence with a fantastic Bahamas Cruise | 4 nights | from Fort Lauderdale, FL | on Celebrity Infinity

 

Private Welcome Reception hosted by Bride and Groom with the enjoyment of complimentary cocktails

 

Bon Voyage from Fort Lauderdale with stops in Key West, Nassau Bahamas, and a full day At Sea

 

Wedding Day with Giana & Kenny in charming Key West amidst the pristine coral reefs and coconut palms 

 

Explore Nassau's dazzling beaches, turquoise waters, colorful past and vibrant Junkanoo culture

 

Enjoy a full Day At Sea exploring the extensive services on the Celebrity Infinity such as rooftop films under the stars to Broadway-style productions, invite your competitive spirit with games, or learn something new from destination speakers, try your luck in the world-class casino and celebrate in the multitude of cool bars and lounges, head to the Cellar Masters for a global wine tour, indulge every sense in the Canyon Ranch Spa and Persian Gardens, or work it off in the State-of-the-Art fitness facility with floor to ceiling windows to the ocean, bask in the sun or grab a burger at the Mast Grill & Bar poolside, shop in the luxury boutiques onboard…tax-free and duty-free, sign up for an interactive cooking class, then top it off with a chilled Peartini at the ice-topped Martini Bar and dance under glowing lights in the evening disco or live music all over the ship day and night.

 
…and more!
Adults Only – No Plus Ones
We wish we could accommodate all our friends and family, but resources restrict extra guests or children at this time.
To attend the wedding, discuss your options, answer your questions and book the cruise cabin that is right for you, please feel free to contact us now. We look forward to helping you with your travels to celebrate Giana and Kenny and are honored to help with any travel needs you have now or in the future.
Cheers!
Lisa Baserga and Sasha Charney
Giana and Kenny's Travel Advisors
#KenGiCruisin