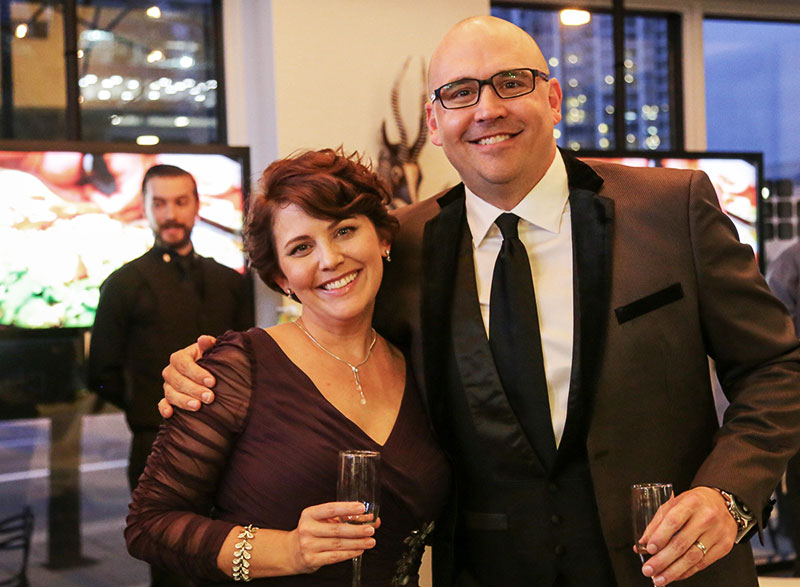 A Premier Austin Event Venue
Need some space? If you've ever been to Departure Lounge, you know the kind of inspiring atmosphere we have to offer—one you can't find at any other venue in Austin. Now you can make that unique space your own for a day or evening by renting it out as a private event venue. Not only can you create an upscale, one-of-a-kind event, but you can do so with all of our exclusive amenities.
With space large enough to comfortably hold 125 people, several giant 46″ touch-screen monitors, a wireless microphone and sound system, and modern beautifully designed furniture you can arrange however you like, our venue as practical and effective as it is attractive and welcoming.
Inspire people to give a little by turning our space into the next site for hosting your nonprofit fundraiser. Our screens will make the perfect platform to your non-profit branding, story-telling imagery and even auction items. And it could be that a world-class travel venue like ours is just what people need to feel a bit more connected to the world and realize that giving to a great cause really does matter.
Bring your next corporate party, happy hour, or staff meeting out of the drab florescent lights and droll white walls of the office and into a place a bit more inspiring. Even the most tortuously boring staff meeting or awkward company party will feel more lively with some great coffees or wines, pastries, chocolates and cheeses. And our vivid 46″ screens may be just what you need to get everyone to actually pay attention to your next A/V presentation.
You don't have to rent out the entire lounge. For a more intimate venue with a more exclusive vibe, our private room holds up to 12 people with a conference table setup and up to 16 with a classroom setup. Use the 46″ touch screen inside to share presentations from a laptop or tablet, and enjoy a level of upscale exclusivity you won't find anywhere else in Austin.
Give your client an experience they're sure to remember by renting out one of our seating areas or booths for your next meeting. Offer them some quality wine and cheese while you take advantage of our complimentary wifi for your presentation. That's sure to impress a bit more than the spare room in your office, isn't it?
Departure Lounge is the ideal venue for special birthday gatherings. We'll create video slideshow of the birthday girl or boy that showcases images from birth to current day . . . maybe with some special best-wishes photos from those who cannot attend. Use our large selection of music options or bring in a DJ for the party. Our outstanding wine, beer, cheese and truffles selection is sure to make any birthday a bit more special and lot more meaningful and memorable.
Bachelor / Bachelorette Parties
For a more sophisticated trip down memory lane and celebration of the marriage to come, celebrate at Departure Lounge. Our flat screens can share images of the happy couple since childhood, and the outstanding food and beverage options and great service make this a great option to begin your evening. You won't find what we offer at any other party venues in Austin.
Those screens are good for much more than just bar graphs and pie charts. Instead of cramming everyone into your friend's tiny living room again, upgrade your next gathering by hosting your next TV get-together in our lounge instead. Relax on our comfortable leather sofas and love seats, enjoy some great international wines and beers as you socialize and keep track of the action on our multiple 46" screens to watch the big game, awards telecast, political debate or favorite TV series. Just know that there'll be no more struggling to position your one TV in such a way that everyone can see it properly. And you'll have a team of bar staff to take care of everything, so you don't miss the best parts of the gathering!
Wedding Receptions & Anniversaries
Celebrating marriage is something that Departure Lounge does very well. From wedding receptions that showcase images of the ceremony or the honeymoon if planned after the couple's return, to special wedding anniversary parties that share images and memories of the happy couple's time together, Departure Lounge has the perfect mix of welcoming design, A/V capabilities, outstanding service and great culinary and beverage offerings perfect for multi-generational gatherings.
Of course, no list of what you can do while renting out our lounge would be complete without a mention of our extensive international collection of outstanding boutique wines. We are one of the very best venues in Austin for wine tastings with cheese or chocolate pairings, making the lounge the ideal place to embark on a epicurean journey around the world without ever having to leave town. Click here for details on the wine-tasting event services we have to offer.
Read more details about our specific event services and prices here to start planning how to best utilize our event space in Austin; we promise you won't be disappointed.