Meet Travel Advisor Viviane Tondeur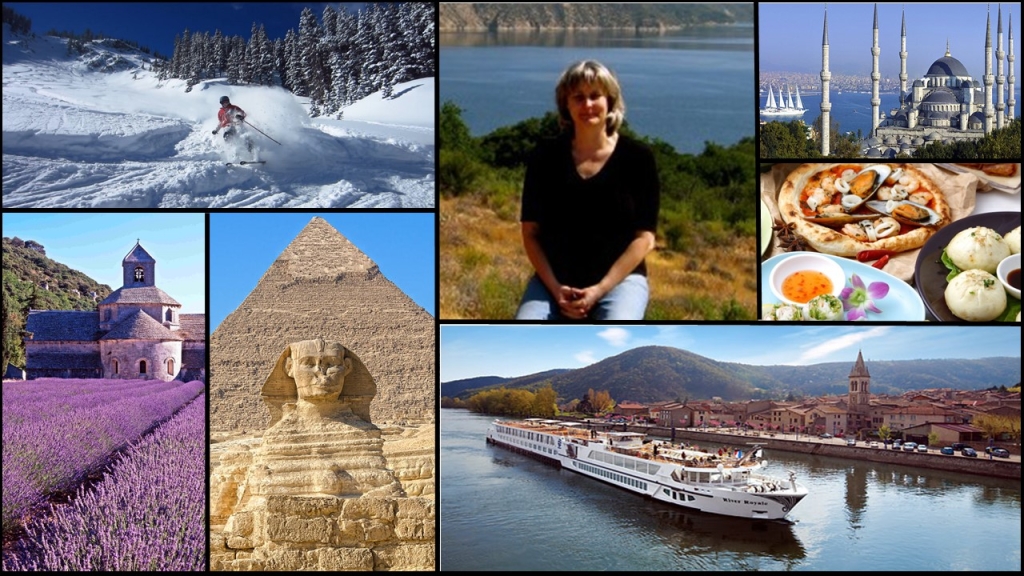 I am a travel industry pro with a degree in tourism and hotel management and many years of experience in all aspects of itinerary planning and cruise operations. I am a Certified Travel Counselor (CTC) and a Destination Specialist (DS).
I'm a regular on the slopes of the Rockies, Andes (summer skiing!) and Alps, but I've also enjoyed skiing in unexpected places like southern Spain, Morocco, Romania, Bulgaria and Greece. I'm an avid cruiser with a passion for river cruises. I worked for one of the leading river cruise operators where I was responsible for cruise itineraries, shore excursions, onboard activities, and helped plan menus on the ships. 
My culinary background is definitely a plus when planning clients' trips that include cooking classes, chef escorted tours, and/or wine themed cruises. I regularly lead culinary and wine tours to California, Europe, Morocco and South America.
I believe experiential travel enhances wellness and wellbeing and I include spa days, exhilarating adventures (ziplining is off the bucket list), and enriching activities in my trips – and those I plan for my clients. Ask about my favorite spa treatments in Mexico, Switzerland, and Morocco!
South America (I planned all the itineraries for South America Specialists, a division of Professional Travel Service), Egypt, Morocco, Tunesia, Turkey, Greece, Israel, Kenya, Tanzania, Europe, California
Ski/Snow globally, Culinary, Ocean & River Cruises, Europe
Four Seasons, Hilton, Starwood, Peninsula, Shangri-La, Fairmont, Relais et Châteaux, Kimpton, Regent, Celebrity, Princess, Norwegian, Seabourn, Cunard, Australis, AMAwaterways, Avalon, Viking, Uniworld, Aqua, American Queen Steamboat Company, A&K, Classic Vacations, Travcoa, Rocky Mountaineer, Blue Train, Belmond, Trans-Siberian, Al Andalus
Can't pick just one – Mena House Oberoi, Cairo, Egypt; Baumanière & Spa, Les Baux-de-Provence, France; La Mamounia, Marrakech, Morocco; The Grand, Amsterdam, Netherlands; Ojai Valley Inn & Spa, Ojai, California; Splendido, Portofino, Italy.
Favorite ski trip: Les Trois Vallées largest ski area in the world and best food (7 Michelin-starred restaurants); Favorite river cruises: Nile (monuments) & Rhône (food and wine)
Thanks for all your planning . The staterooms were perfect & in a great location on the ship.
We're already looking forward to our next high sea adventure . Thanks again & hope to be working with you soon.
I want to thank you for the best trip of our lives. I can't thank you enough for all your help organizing everything. I have been recommending you to all our friends!
Viviane Tondeur is a consummate professional. We highly recommend her as a Travel Advisor. We now have her make all of our travel arrangements because we know it will be done properly. She makes great suggestions for hotels and has travel ideas that are spot on. Any anxiety about our travel is greatly reduced because we know that Viviane made the arrangements. Viviane planned and oversaw a very complicated trip to Europe for us that required extensive coordination. Every aspect of the trip went off as planned and we had no issues the entire time. Every hotel was wonderful. We experienced extra touches of hospitality at each hotel no doubt because Viviane had been in personal contact with hotel staff. If you want to relax and thoroughly enjoy your travels, allow Viviane to plan your next adventure.