Meet Travel Specialist Marilen Rose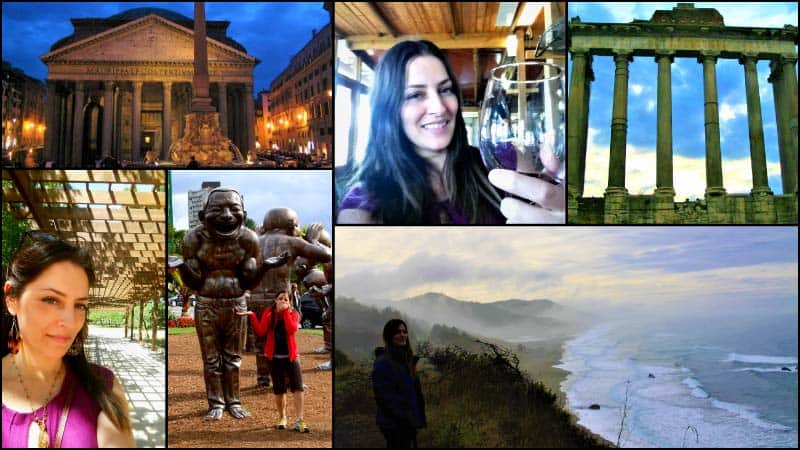 Travel, Culture and Discovery are a huge part of who I am for as long as I can remember. My entire life has been deeply influenced by cultural diversity exposure not only by visiting foreign countries, but actually living for years in 3 different countries.  I'm originally from Chile and moved to the United States over 25 years ago.  My passion for meaningful travel experiences dates back to my high school times in Chile, when I wanted to become a foreign exchange student and go live in a different country, learn a new language and get immersed in a different culture. Although I did not participate in an official student exchange program, I did have the opportunity to move to the US right out of High School, and I embraced it with utmost joy and excitement. Within my first year in the US, I had the opportunity to move to the gorgeous and amazing Canary Islands.  I lived there for three years before moving back to the US for good.  This has been my happy home base since.
My first college degree was (naturally) in Tourism and Business, which I obtained while living in Santa Cruz de Tenerife, Canary Islands. I loved learning about the industry so much and my heart was so full from experiencing living in two other countries and "doing what the locals do", that I decided I would one day do that for a living. After taking more trips around the globe, going back to college for another degree (B.A. in Psychology), several jobs that gave me great life skills and learning opportunities, and creating beautiful and tight personal and professional connections with people from all walks of life that I met along the way, I am finally back to my original passion: being a Travel Experience Specialist.
I love sharing my experience, using my unique resources and inspiring others to have the chance to truly enjoy an unforgettable journey with each and every trip. I have visited several destinations in North, Central and South America, Europe and Africa and have lived in three different countries on different continents. I'm fluent in English and Spanish, can have basic conversations in Portuguese and Italian, and have friends all over the world. My main objective is to help you: find trips that are a perfect fit to what you are looking for, have access to special additions or enhancements with the best of what the local destination has to offer, and to come back home with a unique and outstanding experience that will forever live in your memory. What better gift can there be in this life than an experience of a lifetime?
A little more about me: In my free time I enjoy being active, exploring my local town and surroundings, going outdoors, having fun with my family, reconnecting with old friends or making new ones, knitting, networking, enjoying live music and festivals, going on wine tasting escapades, cooking, learning more about health and wellness, designing and planning life-changing experiences and retreats for my business, and I've been known to play tennis and basketball when the opportunity presents itself.
If you're ready, let's talk about the travel experience you dream of and make it happen! My favorite trips to plan are culturally rich experiences, unique adventures to unique places on Earth, wellness-focused getaways, transformational retreats, mountain sports year round, epic safaris, celebration and milestone trips, family and group trips, honeymoons, women trips, learning (from the source!) trips for cooking, cycling, survival, motorcycle, wine-making, sustainability, homesteading, the sky's the limit.
DESTINATIONS I SPECIALIZE IN: More than just destinations, I specialize in unique, local and global travel experiences that are life-enhancing or transformational, and on classic historic and culture-rich gems. North, Central and South America, Central Oregon, Pacific Northwest, Texas, Chile, Mexico, Galapagos, Patagonia, Iceland, Spain, Italy, France, Slovenia, Canary Islands, Scandinavia, Japan, etc.
Experiential Travel, Family Celebrations, Group Travel, Active/Outdoor Adventures and Expeditions, Culinary Travel, Elopements/Honeymoons, Health & Wellness, Retreats, Mountains, Specialty Cruises.
Australis Cruises, andBeyond, National Geographic, Celebrated Experiences, Inside Asia, Trails of Indochina, Essence of Italy.
Australis Cruises (Patagonia), Viking Cruises, The Spa and Links at Silvies Valley Ranch in Central Oregon.
All time faves are The Lake Region (Chile), San Pedro de Atacama (Chile), Canary Islands (Spain), Sayulita/Puerto Vallarta (Mexico) and Rome (Italy.) Next up: Iceland, Nordic Countries, Slovenia. 
The trip was SO perfect. Truly. I don't have one complaint. And the excursions could not have gone better. The personalized service was out of this world and made the trip feel incredibly intimate and meaningful for my mom and me. Each excursion we did had an even better tour guide/host. And the personal driver was AMAZING. I'm so happy we went with that. The family owned vineyard we did the grape stomp, that was my favorite activity/day. Again, I couldn't get over how intimate and personal the whole experience felt. The truffle hunting experience was a VERY close second for the same reason. I also really appreciated getting to know the culture on a close level. Oh! The cooking lessons were so different experience-wise and perfect in their own way. The chef whose house we went to and cooked with was something I will never forget. Truly a perfect trip. I can't thank you enough; I know we wouldn't have had half the incredible experience we did without you and your team's help. So, thank you.
With having no experience in Ireland, it was really nice to have the activities pre-planned to help keep us busy while getting to know the areas. Starting out with the electric bike tour in Dublin allowed us to get the lay out of the land. The sea kayak tour allowed us to find some cool castles and towns during the drive to the kayak location. Loved that we did a bus tour to the cliffs of Mohr. That drive is insane. Definitely do not recommend driving yourself. Really loved all of the pubs and music scene.

Our trip was perfectly planned by Marilen for two weeks in two countries. I liked feeling like we got the good highlights of everywhere we visited and didn't feel rushed. We had such a great variety… electric bike tours, driving, bus tours, Guinness tours, Sea Kayak tour, Castle tours, Edinburg Military Tattoo… Ireland and Scotland are amazing and the people are wonderful. It was so cool to have people at all of our tours know we were on our honeymoon. We have much more to explore. Now we need to go back to check out southern and Northern Ireland and southern Scotland!
I normally travel on my own. Research my own itineraries, accommodations, etc. but sometimes you can hit a wall. Marilen had much more access to a database I could only dream of. Having studied woodworking abroad before, I approached my upcoming woodworking study trip to Vietnam the same as always but was coming up short. I couldn't find the exact kind of intensive learning programs I wanted to experience if I'm flying halfway across the world.

Not only did she find me a master woodworker, she found me THE master woodworker. She handled the logistics and set me up with a charming flat near the shop and a translator for the first day just in case I needed one. What occurred was a once in a lifetime experience. I would highly recommend her services to anyone looking for assistance in planning their next trip, no matter if you're looking for luxury or off the beaten path.