Meet Travel Advisors LD & George Hansen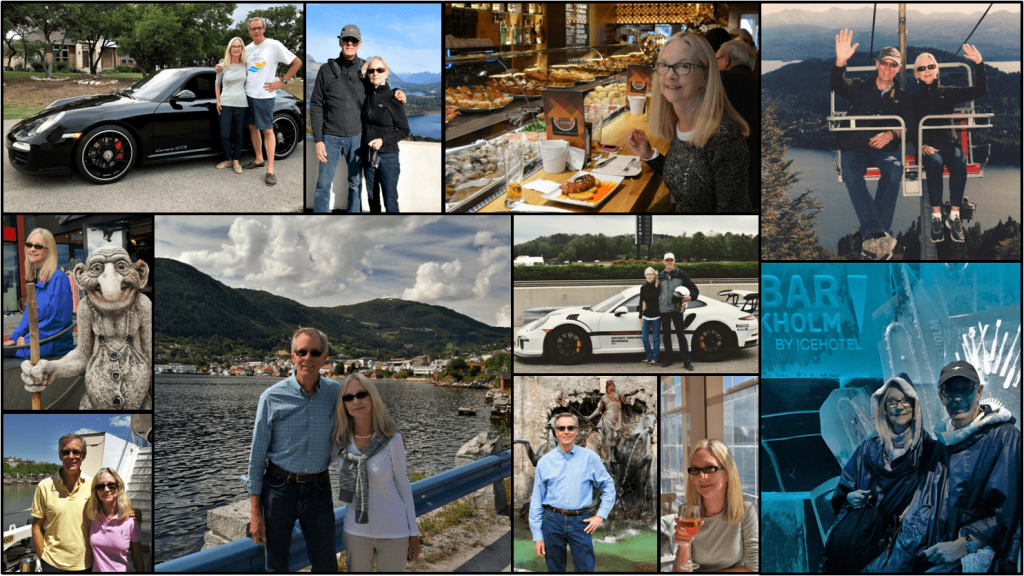 LD and George have extensive travel backgrounds and understand what matters most when working with a travel advisor.   As we collaborate with you on your travel plans, we listen to your needs, desires and preferences.   We are also ready to offer additional travel ideas and suggestions.
We'll work to take the stress out of travel planning and make the process enjoyable and rewarding.  You will have the benefit of having two travel advisors watching out for you before, during and after your trip.
LD and George are highly organized and detailed oriented which ensures that the planning process for your trip is covered and complete.  We are committed to being responsive to your calls and requests, and provide fast turnaround.
When you start to get that travel "fever", it is reassuring to know that you can brainstorm with your host travel agency and leverage their depth of travel information to plan your new trip right then and there.  We are dedicated to delivering the level of service to our clients that we have learned to expect and appreciate in our own travel experiences.
Both LD and George's careers included international business travel, accumulating experiences year after year, adding to their list of personal travel favorites.  We have been to destinations in Europe, the British Isles, North America, Asia, Scandinavia, South Africa, South America, Central America and Australia. 
LD got the travel bug when she was 19 and spent the summer in Europe with a childhood friend.  They traveled by rail from the Netherlands, through France, Spain, Italy and Germany.  This was a pivotal experience that fueled her yearning to travel. 
George's corporate international travel, along with his love for travel photography, have taken him to destinations that are culturally and scenically rich, offering unique photo opportunities.  It's a true passion and a source of mutual admiration and discussions with other photography buffs.
George and LD are also Porsche enthusiasts.  They own two Porsches and are actively involved with the Porsche Club of America on both the regional and national levels.  George completed the two day High Performance Driving Course conducted by Porsche Sport Driving School in Birmingham, Alabama, and has the prized certificate of graduation!
We both have a love for "all things Porsche" as well as other high performance cars.  And no surprise, Porsches, racing and photography meld together, and keeps George's camera busy.  We can assist clients with worldwide Porsche events along with exclusive Porsche touring trips in Europe.
Over the years, our travel adventures have ranged from independently planned to using the help and guidance of travel professionals, experiencing bare bones to luxury travel.  We have done our own driving and railways tours allowing the flexibility of independent travel.
On the other hand, we also enjoy and appreciate the ease of travel with a tour company or cruise line.  There are no worries about the logistics and visiting sites, special events, and destinations that might be difficult to arrange are now available.  Of course, why not combine elements of both in one trip?  Let us be creative and explore options with you.
Our travels have included river cruises, small ship itineraries, ocean cruises and land tours.  Each option has been rewarding and we can advise on travel experiences that satisfy the need for adventure, luxury or both.  We are eager to help you plan innovative travel experiences with exceptional accommodations.
We can also introduce you to the amenities, complimentary upgrades and perks that are available to Departure Lounge travel clients at no cost.  As travel advisors with The Departure Lounge, we have access to the best travel provider partners worldwide.
Contact LD and George.  We love travel planning and creating amazing vacations!  Let us share the excitement with you as you plan your next travel destination! Whether it be booking safari trips in South Africa or going seaside on Crystal Cruises, consider us as your travel agent.
France, Spain, Italy, Austria, Switzerland, Germany, Norway, Sweden, Denmark, Ireland, Scotland, South Africa, China, Australia, US and Canada, US National Parks, Hawaiian Islands, Panama, Costa Rica, Chile, Argentina, Brazil
River Cruises, Ocean Cruises, Small Ships, Luxury Hotels in Europe, South Africa, Australia.
Hotels: Relais Chateau, Four Seasons, Ritz Carlton, Westin, Grand Hyatt, Rosewood , Mandarin Oriental,
Cruises: Viking Ocean, Ponant, Oceania, Regents, Seabourn, Crystal
Tour Companies: Tauck, National Geographic, Smithsonian,
LaDolce Sitges, Spain, Llao Llao, Patagonia Argentina, Relais Chateau, Paris, Grand Hyatt, Kauai
Viking Star Ocean, Paul Gaugin Small Ship, Ponant Small Ships
Norway Fjords and Lofoton Islands, Banff/Jasper, Chamonix France, Avignon France, Beaune, France, Llao Llao Resort, Patagonia, Iguazu Falls, Brazil, Rio DeJanario,Brazil , Bern Switzerland, Innsbruk Austria, Salzburg, Austria, Dublin Ireland, Edinburgh, Scotland, Glacier and Waterton National Park, Paso Robles, California, Yountville, California,  Sydney, Melbourne and Merricks, Australia, Shanghai, China,  Forbidden City, Beijing China, The Great Wall, Beijing China,  Ventana Big Sur, California, Cheeca Lodge, Islamorada, Florida Keys, Fairmont, Monte Carlo, Hong Kong, and Singapore
Consider Departure Lounge your luxury host travel agency for booking safari trips and coordinating expeditions with top brands like Crystal Cruises. Visit our travel arrangement page and see how we can help you on your next adventure!