Meet Vacation & Cruise Specialist Amy Aftergut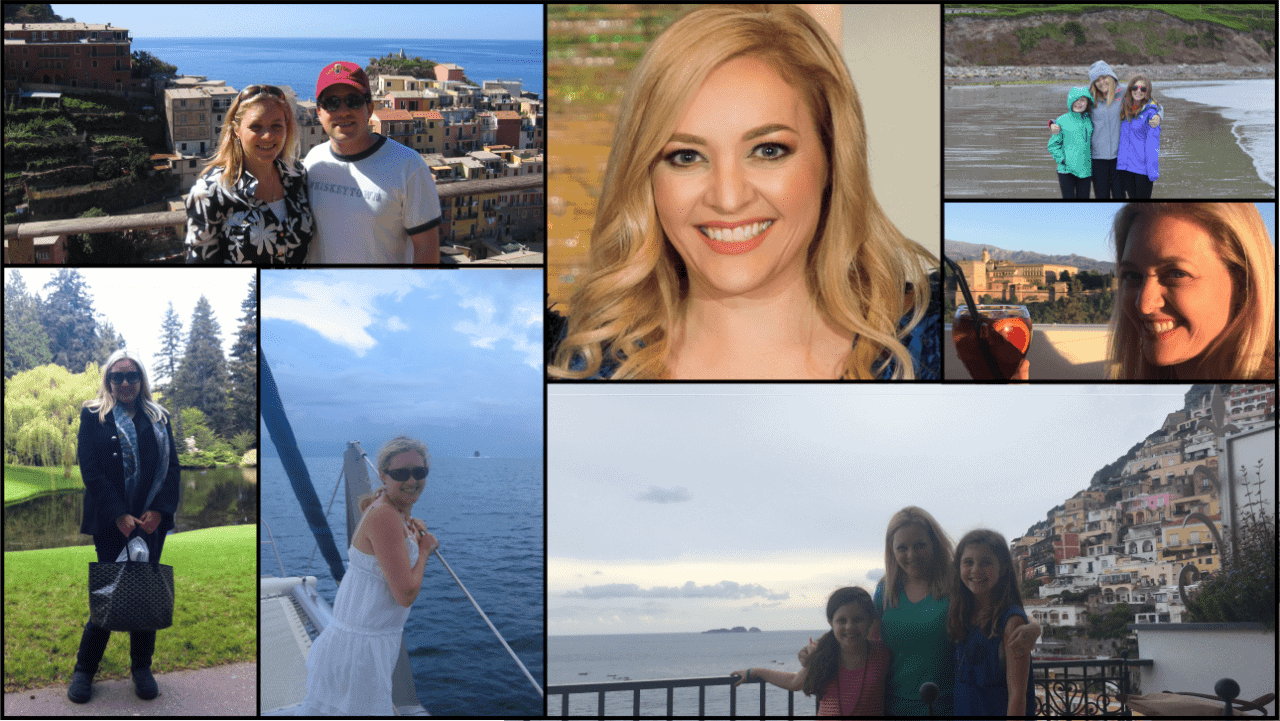 I have loved traveling for as long as I can remember. Family trips were my earliest experiences to see the world outside of my home. After college my friend and I backpacked through Europe for a month. It truly changed my perspective on everything. As I walked through the newly liberated streets of Prague in the mid 1990's, I could feel the excitement they were feeling adjusting to democracy. Since then I have been taking every possible moment to travel and experience the world. Now that I have a family, I feel it is important to show the world to them and create global citizens. I have chosen this career path because it truly is my passion. When you go to bed dreaming about where to go next, the best thing to do the next day is to plan someone's trip to get there!!
Let me help turn your dreams into plans. That's where I come in. Together with a top host travel agency like Departure Lounge, we can plan the perfect journey for you!
Europe
Mexico
Hawaii
Peru
Mexico
Caribbean
Costa Rica
European adventures
Beach getaways
Independent travel
Cruise specialist
Tough question because there are so many great options all over the world!
I can't pick one….. if I had to pick a moments in time, standing on top of Machu Picchu, staring up at Sistine Chapel, gazing at an Irish castle…
Detail-Oriented & Proactive

Amy is a truly exceptional travel advisor. She is detail oriented, proactive in looking for (and finding) fun travel options, very knowledgeable and extremely personable. It was a pleasure working with her! (And, she also saved us lots of money versus what we could have found on-line!)
Thoughtful & Efficient

Amy is a thoughtful and efficient travel advisor. I've referred my friends to her because she understands great travel.
Whole Process was Easy


Working with Amy was great. She made the whole process easy. Will use her service again for my next adventure.
Very Knowledgeable

Easy and most pleasant. Amy is very knowledgeable and knows the ins and outs of the destination. It made our trip easy and pleasurable. Wouldn't hesitate to use her for our next trip.
Worry-free Planning

I enjoy working with Amy because I don't have to worry about any of the details of my trip or my sightseeing because she is experienced enough to present the complete range of choices to us and give a description of each. So all we have to do is look at the choices, listen to her review of the various choices and make our selection. Amy makes traveling easy and enjoyable.
AMAZING!

Amy is and has always been AMAZING! She responds quickly and recommends the best places. I STRONGLY RECOMMEND USING HER!
More from Austin's Top Host Travel Agency

Want to meet more great travel advisors to help plan your perfect trip? Browse more vacation specialists from Departure Lounge, the top host travel agency in Austin Texas. We look forward to working with you to plan your best vacation yet!