Meet Austin Travel Advisor – Alicia Saba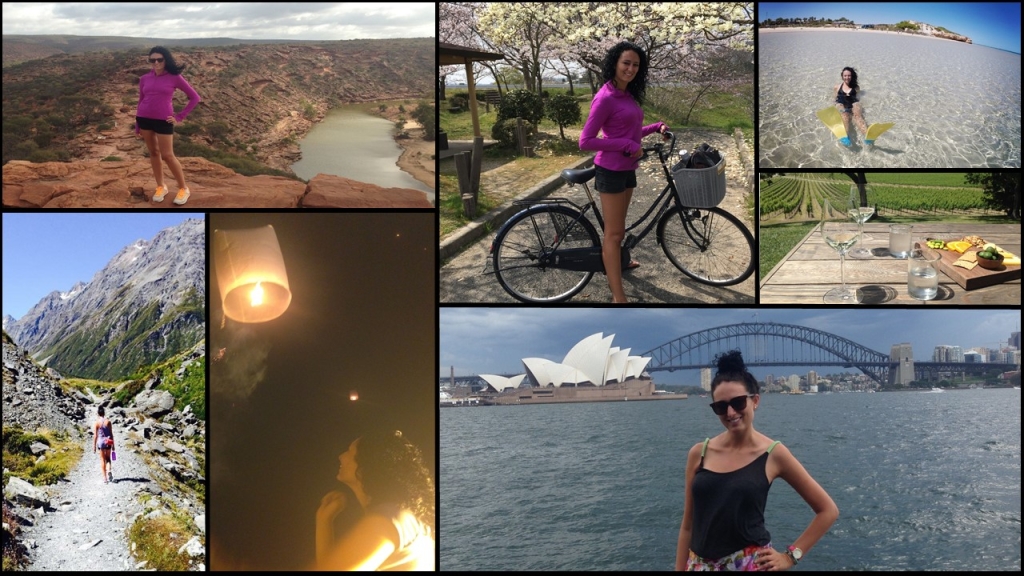 Hello! I'm Alicia.
I specialize in Australia and New Zealand. They are the kinds of destinations that take hold of the bold traveler's imagination and just don't let go. They're the kind of destinations you simply have to see to believe. These South Pacific gems hold a special place in my heart and, as an Australia and New Zealand travel specialist, I love helping my clients discover the land Down Under.
Travel has always been a huge part of my life.
In my early twenties, I spent 9 months traipsing through the south eastern hemisphere, exploring the coasts and canyons of Australia, New Zealand, Japan, Singapore, Fiji, and Hawaii with not much more than a backpack and a sense of wonder.
These days, I've kept the sense of wonder—but traded in the backpack for luxury hotels and (often!) butler service. In fact, on a recent one-month New Zealand visit, I stayed at almost every luxury Virtuoso hotel in the country.
You may be wondering … Alicia, what's with the hotel hopping?
Well, I know that "splendid" travel means something different for every traveler.
And so I strive to familiarize myself with all the best-of-the-best options out there, so I can send my own clients on not just once-in-a-lifetime vacations, but one-of-a-kind ones.
Because your vacation is about a beautiful, breathtaking destination, yes.
It's about taking time off and escaping the office and home hustle and bustle for a bit.
It's about luxury touches (three cheers for turn down service!).
Above all—your vacation is about YOU. Or at least, it should be.
Too often, though, we settle for vacations that are less than a perfect fit.
Vacations that are cookie cutter—when you're a chocolate-chip-and-macadamia-nut kind of traveler.
That's where I come in.
As your personal travel advisor, I ensure your custom itinerary has "you" written all over it. My extensive luxury travel network, intensive research, and deep first-hand destination knowledge mean you get an escape that's astounding in all the ways that matter to you.
Together, we'll cut through all the clutter—and cut out the "cookie cutter"—so your next escape speaks to your particular passions, interests, and distinct travel style.
Because nothing says luxury like a vacation tailored just for you.
– Australia
– New Zealand
– French Polynesia
– Fiji
– Hawaii
– Honeymoon
– Family Vacations
– Couples trips
– Babymoons
– Beach Vacations
It was great working with Alicia to plan my trip to Seattle. I wanted to find the best way to experience the city and the countryside. Alicia was able to help my find the perfect place to stay so that I could walk to interesting places and enjoy the local food. She was very helpful in suggesting the best tours and finding availability. We decided on a tour of the Olympic National Park and I was completely satisfied. I was able to enjoy all of the mountain views, a mountain lake, a forest waterfall and see the green old growth forest for the first time. I was very satisfied with my trip and we are already in the process of planning the next.
I rediscovered my love for Austin travel agents – I have never had as great of a service experience as with Alicia Saba…Alicia did not only point out some of the most beautiful and hidden places in New Zealand and adjusted [and re-adjusted] all travel plans to time and budget, but was also the most patient, understanding and accommodating service professional I have ever experienced.
With Alicia's thoughtful help and guidance, my husband and I had the most spectacular trip to NZ and Australia. We spent the majority of the trip on NZ's magical South Island–and are now passionate about encouraging others to feel the benefit of Alicia's knowledge, attention to detail and willingness to tweak plans until they are a perfect for you.
Alicia is FANTASTIC! She planned our entire honeymoon from start to finish. She was organized and very quick to respond. She gave us all the information we needed for traveling and some good tips and tricks.