Meet Travel Advisor Alex Jimenez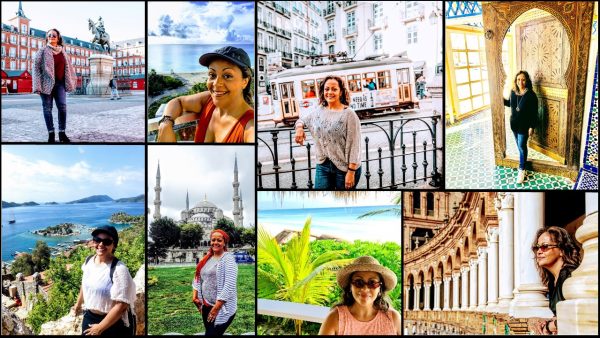 Growing up in that melting pot called "The Big Apple", I dreamed of visiting every country to experience the unique wonderment of their local vibe through language learning, cuisine, music, art, historical/cultural immersion and more.
Thus my wanderlust began! My favorite trips so far have been to Kenya, Spain, Ireland, Portugal, Morocco, Turkey, Mexico, Costa Rica and Nicaragua. There's still so much more to explore! World travel continues to broaden my experience and global perspective, cultivating my own compassion and understanding for others. This is why it's become my passion, which I now love to share with others.
While I'm happy to work on any kind of travel itinerary my clients' heart desires, I'm especially focused on eco-friendly, sustainable wellness travel. Being a city kid from the concrete jungle, I was blessed to spend five summers at Center Church's Camp Asto Wamah at Columbia Lake, Connecticut where I was taught a deep respect for nature, communal living, personal introspection, and social responsibility. Having caught the bug at an early age, I've carried these values with me throughout my life so they're naturally incorporated into the way I prefer to work, play and travel.
I believe that successful, well-curated travel planning requires a bit of resourcefulness, a keen attention to detail,  some tech-savvy and most of all a commitment to top quality outcomes. I've blended my wanderlust with 20- years of project management experience to curate uniquely customized itineraries for the discriminating client. I offer high-touch luxury service so I've got your back from Bon Voyage to Welcome Home!
Favorite Travel Quote:
The more I traveled the more I realized that FEAR makes strangers of people who should be FRIENDS.
– Shirley MacClain
Alex is the founder of  the Eco Luxe Wellness Travel club on Clubhouse, where she fosters a growing community of like-minded wanderlusters by curating inspiring discussions about sustainable, eco-friendly wellness travel. She is also an active member of Virtuoso's Wellness Travel Community and Sustainable Travel Community.
UNITED STATES
MEXICO
LATIN AMERICA
CARIBBEAN
SPAIN
PORTUGAL
ECO-CONSCIOUS
HEALING RETREATS
LUXURY LEISURE
CULTURAL  IMMERSION
SOLO TRAVEL
GROUP TRAVEL
Mount Kenya Safari Club (Kenya)
Hotel Alfonso XIII (Spain)
La Penha Longa (Portugal)
The Yeatman (Portugal)
La Mamounia (Morocco)
Hotel Esencia (Riviera Maya)
Chablé Maroma (Riviera Maya)
Palmaia (Riviera Maya)
Rosewood Mayakoba (Riviera Maya)
Pacuare Lodge (Costa Rica)
Morgan's Rock Eco-Lodge (Nicaragua)
The Tribal Hotel (Nicaragua)
It's really hard to pick just one! I'll have to say that one of the most beautiful travel experiences I've enjoyed was a yoga yacht cruise off the Turkish coast. We started our day with yoga on deck while anchored in a different cove of the Mediterranean Sea every morning. This would be followed by a traditional Turkish breakfast of fresh olives, tomatoes, cheeses and breads. Then we'd enjoy some sailing and swimming in what I can only describe as the most buoyant, velvety water I've ever experienced in my life! I would spend hours just floating effortlessly. I also had the opportunity to try my hand at paddle boarding for the first time, and even accomplished some floating downward dogs! We disembarked from time to time to visit coastal villages like ancient Simena (population 300!) and eclectic Kås, a really immersive Turkish cultural experience filled with music, dance, and local artisans. I came home with a full heart- feeling pampered, refreshed and renewed.