Meet Travel Advisor Rebecca Garland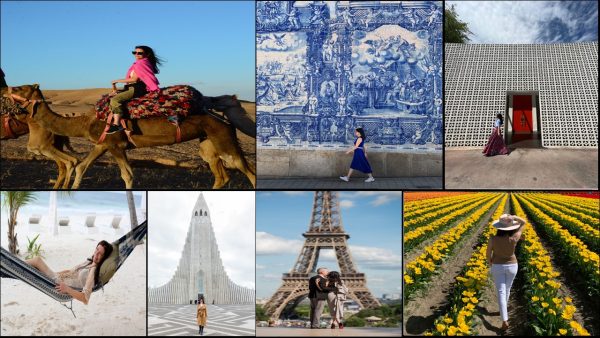 In 2009, I took a three-month solo trip to the UK and Europe. I had never traveled solo before. It was on that trip that I first understood how travel and getting out of your comfort zone can be life changing. I began taking solo trips to other places like Southeast Asia and South America, but I realized that while I liked traveling solo at times, I was missing connection with people. As a result, I decided to try my first group travel in 2011 – a surf and yoga retreat in Bali.
During that Bali retreat, I finally felt like I had found my people, a group of like-minded women who understood me and my love of travel. I immediately booked another retreat – this time to Tulum, Mexico. I was sitting on the beach one day in Tulum when I had the idea to start a company that offered traveling retreats for women. That is how my first travel company, Fit & Fly Girl, was created in 2014.
Over the past eight years, I've planned travel for and hosted hundreds of women on dozens of Fit & Fly retreats on five continents. Our week-long retreats are generally hosted in a private villa with a personal chef and a variety of activities that are specific to the location such as learning how to play polo in Buenos Aires, making your own perfume in the French Riviera, or camel riding in Morocco. Through these retreats, I've artfully learned how to bring together groups of people who have various different travel styles and create a special experience for them. My Fit & Fly guests receive a highly detailed, personalized experience so that they essentially just need to show up. Everything is already thought of and taken care of for them in advance.
A natural extension of Fit & Fly is my luxury travel planning company, The Curated Getaway. TCG allows me to create travel experiences in a similar manner to how I plan retreats – really getting to know the guests who are traveling, their style and preferences, and then tailoring travel to their wants and needs. I specialize in planning curated experiences for couples, groups, and solo travelers. My attention to detail, appreciation of luxurious outside-the-box experiences, and the desire to change people's lives through travel as it has changed mine is what sets The Curated Getaway apart from other travel advisors.
Europe (Portugal, France, Spain, Greece)
Caribbean (St. Barts, Anguilla, St. John)
Mexico (Tulum, Mayakoba/Riviera Maya, Cabo, Zihuatanejo)
South America (Buenos Aires; José Ignacio, Uruguay)
California (Palm Springs, Joshua Tree, Santa Barbara/Montecito, Los Angeles, Carmel)
Washington (Seattle, San Juan Islands, Walla Walla)
Tennessee (Knoxville, Nashville, Memphis)
Bali
Morocco
Women's Retreats
Custom Itineraries
Couples Travel (Romantic, Honeymoons)
Group Travel
Destination Weddings
Girls' Getaways
Food & Wine Experiences
Wellness Travel
Rosewood
Four Seasons
Small Luxury Hotels
luxury boutique hotels around the world
There are too many to name! A small sampling of my favorites:
La Mamounia Hotel in Marrakech
Rosewood Las Ventanas al Paraiso in Cabo
The Dylan Hotel in Amsterdam
Palacio Principe Real in Lisbon
The Carlyle in New York City
Kasbah Tamadot in the Atlas Mountains, Morocco
Sibarth Bespoke Villa Rentals in St. Barts
I love planning travel that has a variety of experiences, each vastly different yet completely seamless. A recent example is a trip my husband and I took to Portugal. We started in Lisbon where we walked the city, ate more pastel de nata than we could count, and each evening retreated to the stunning Palacio Principe Real hotel to chat with the bartender who gave us samples of the most delicious Caipirinha I've ever tasted. After a few days in Lisbon, we then rented a car and drove to Comporta on the coast where we slowed way down, enjoying days on the beach or by the pool at Sublime Resort, wine tasting at Herdade da Comporta, and spa treatments at Quinta da Comporta. After a few days of rest in Comporta, we drove north with stops in Nazaré and Costa Nova, eventually arriving in Porto where we marveled at the city's architecture and enjoyed late night meals finished with port wine. Every experience we had in Portugal was completely different yet it was also completely us and what we needed at different points in the trip. That is exactly how I aim for my guests to come away feeling after their own travel.