Meet Travel Advisor Charlotte Piazza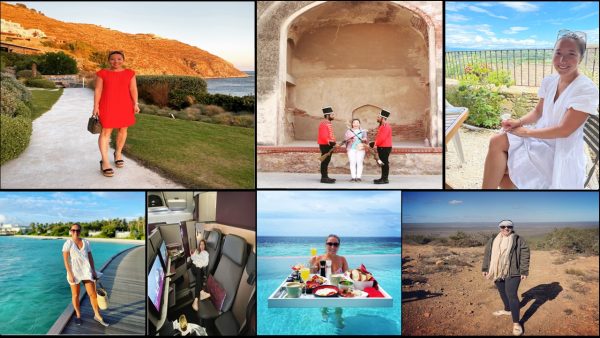 Charlotte is a luxury travel advisor from London who specializes in high-end honeymoons. After three years as the COO for luxury wedding publication Style Me Pretty and a stint at a travel-tech start-up in Amsterdam, Charlotte knew there was a niche in the market where her two passions – weddings and travel – could come together.
"I love bringing my experience in luxury weddings and my love for world travel together to help couples curate unforgettable honeymoons! I am incredibly lucky to have traveled the world, and I want to share all the incredible tips and tricks I've picked up along the way in places like Hong Kong, Singapore, Thailand, the Caribbean, Costa Rica, Brazil, South Africa, Pakistan, Egypt, Mauritius, the Maldives, Europe and the USA with our clients."
There is nothing that makes her happier than planning trips (India is next on the horizon for Charlotte and her husband Frank), so she brings not only a wealth of knowledge but also true joy to the planning experience as she guides couples just beginning their travels together or continuing a life of exploration. She and her team know the ins and outs of the industry and always know how to find the best flights, most luxurious accommodations and most memorable restaurants and experiences.
No matter what you and your partner's travel preferences are, Charlotte is confident in finding the right destination and balance of activities for you both. Some of Charlotte's most memorable trips include a 14-day road trip through Costa Rica, swimming with Whale Sharks in the Maldives and visiting Milford Sound in New Zealand.
"Honeymoons are such a special time. They really are the first trip of the rest of your lives together, and they deserve just as much attention as the wedding. Handpicked Honeymoons works with you to create a honeymoon neither of you will ever forget."
Charlotte currently lives in Amsterdam, with her husband Frank & labrador LouLou. When taking a break from being completely travel-obsessed, she enjoys running, baking and reading a good book.
Europe
Maldives
Seychelles
USA
Caribbean
South Africa
UAE
Honeymoons
Celebration Trips (eg. proposals, anniversaries, birthdays)
Luxury Leisure
Festive Vacations
Spa & Wellness Trips
Aman
One & Only
Six Senses
Jumeirah
Rosewood
Lux*
Four Seasons
Viceroy
A two-week road trip through Costa Rica or a week of wellness and watersports in the Maldives.