Meet Travel Advisors Cyndi & Mark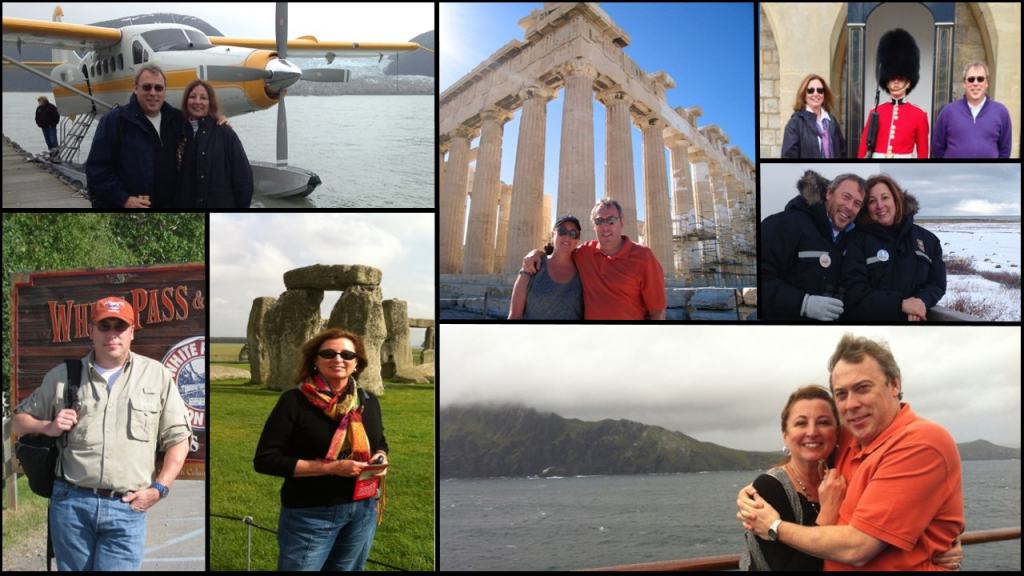 Choosing Mark & Cyndi,  you get a team. A couple united through travel, and blessed with a combined knowledge and experience that has given them a beautiful, new life story, grown, and nurtured from lives previously touched by the desire and ability to travel.
Cyndi's  first taste of travel was 40 years ago flying on TWA from Harrisburg, Pa, to Santa Fe, NM, as a graduation present to visit her Aunt. She has been fascinated with travel ever since. Over the years, she has journeyed to China, when there were only bicycles and carts for transport and everyone was dressed alike, in Mao uniforms. She went to Russia for a New Year's Celebration, as the army was being decommissioned, and Aeroflot did not have the money to fly from St. Petersburg to Moscow.
As she says, "Wow, things have changed-all over the world! Traveling opens up windows and doors of understanding and tolerance that reading newspapers and watching the news on television will never do. Your conscious level is escalated every time you visit an ancient civilization site, such as Ephesus or Petra, or see the advances of a developing country like Viet Nam."
Cyndi has traveled to nearly 100 countries and continues to travel today. She has seen, and experienced some of the World's finest resorts and hotels, sailed on the world's leading luxury cruise lines, safaried with Polar Bears in the wilds of the Arctic, been up close with the Big Five, in Africa. and so much more in between, including the British Open in St. Andrews, the Masters in Augusta, the Indianapolis 500, Formula One in Austin, and the America's Cup in Barcelona.
Cyndi always says, '"It is my desire and goal for my clients and friends, to have the kind of experiences that I have had, and continue to enjoy, along with a bit of fun and laughter thrown in and bring back home a changed view of the world and perhaps themselves."
Mark grew up on the South Coast of England in a town called Brighton, before moving to the United States in 2010, where he now lives with his wife, Cyndi, in Austin, Texas.
He has traveled around the World, close to nearly 100 countries, experiencing the diverse cultures and cities of each place visited.
He was primarily able to travel with his previous career, as a Head Line Entertainer in Comedy and Magic, on the World's luxury cruise ships. It was during his travels around the World as an Entertainer, that he found Cyndi, back in 2009. They met in Goa, India, on a Silversea Cruise ship, the Silver Whisper, and their first date was in Mumbai.
Since getting married in 2010, he and Cyndi have continued to travel around the World, as Virtuoso Travel Advisors, working within the Virtuoso Network, and with it's partners in luxury travel. Staying in many leading luxury hotels and resorts and seeing and doing things most people would love to do or have on their bucket list. In the last 2 years alone they have sailed on over 32 different cruises and virtually every cruise line there is. Through the Virtuoso network, they have amassed many friends and contacts in the realm of travel, from the general managers and senior management at leading hotels in countries such as, Japan, South Africa, United Kingdom, Scotland, Holland, Mexico, Buenos Aires, China, throughout the United States, Chile, France, Turkey, Greece and many more.
Together they have been to so many places, seen so many sights, experienced so many things, that their combined travel experience is immense. It is that experience that they bring to clients, who also want to share in the fun and adventure that they have had, and continue to do.
It is very rare to be able to talk to a travel expert(s), who have been to the places that you want to visit, or have had the opportunity to try the ship that you want to sail on, or have seen the animals of Africa up close, or the Polar Bears in the Arctic, for example!! They can truly share real travel stories, provide genuine, and been there, tried or "done that," advice, which is priceless.
Mark and Cyndi will tell you, "We believe that your travel should be the most amazing experience, it should enlighten and enrich, as well as being fun, and above all memorable. It is our experience and knowledge of travel, that is the difference to making your journey all those things."
Alaska, Hawaii and the rest of the United States, Argentina, Brazil (including the Amazon), Caribbean, Mexico, Canada, Australia, New Zealand, The Baltic, UK, Central America, South Africa, Dubai, Abu Dhabi, Oman, Egypt, Jordan, Singapore, Hong Kong, Japan, Beijing, Shanghai, Iceland, Switzerland, Croatia, Turkey, Greece, Papa New Guiana, Tahiti and Society Islands, Thailand, Viet Nam, Coastal India, Maldives.
Ocean, River and Private Barge Cruising; Resorts/Honeymoons; Sports; Safari/Adventure; Land Tours/Hotels
Hotels: Four Seasons, Ritz Carlton, St. Regis, One and Only, Intercontinental, Red Carnation, Relais Chateau, Hyatt, Waldorf Astoria; Cruise: Silversea, Crystal, Regent, Seabourn, Paul Gauguin, Sea Dream, Azamara, Oceania, Celebrity, Holland American, Royal Caribbean, Cunard; Tour companies-Tauck, Natural Habitat, Abercrombie & Kent, Trails of Indochina, Tahiti Legends, Classic, Asia World, Essence of Italy, European Connections, Fortuna, Hellenic, Sea Song
Hotel-Ritz Carlton-Battery Park, NYC; Faena-Buenos Aires; Stafford/Eggerton/Milestone-London; Park Hyatt-Dubai; Resort-Four Seasons-Punta Mita; Taj-Maldives; Four Seasons, Lanai; Ship-Silversea Silver Whisper; Regent Mariner; Crystal Symphony
One- a cruise from Abu Dhabi through the Middle East ending in the Maldives. Why-it was a magical 12 days with each other, newly in love and our first time together and exploring exotic ports; Two- a cruise from Rio De Janeiro, up and down the Amazon, to Barbados. Why-meeting new friends and traveling with old friends, and exploring the mysteries and excitement of Brazil and the Mighty Amazon; Three-a cruise from Rio de Janeiro, across the Atlantic with a stop at St. Helena, then on to Namibia and a extravagant dinner in the desert, and sailing into Capetown. Why-again, traveling with new and old friends, making special memories both onboard and off, plus the excitement of Africa. And then after Capetown, on to an amazing Safari ending with the wine country of South Africa.
You guys will be planning every vacation we take from here on out. We are going to do this at least once a year!
We got back to the ship yesterday afternoon after our two night trip to Bali, Yogyakarta and Borobudur. We had a great time. We really appreciate the work and concern you put into organizing the trip to make it so enjoyable for all of us. Pleased let the local agent know that we thought their guides, drivers and "wheelchair pushers" were excellent. All the meals we had were very enjoyable. Breakfast at the Hyatt was quite remarkable. The van was brand-new and ideal for the four of us. They actually lifted Jill bodily in and out of it. We got back to the ship in plenty of time. It's like coming home. Again a great trip in many ways thanks to your detail oriented planning.
We have had a wonderful Asian adventure without gluten mishaps!!
Travelling RC club level definitely helped. They were uniformly accommodating, special thank you to RC Singapore they went over and above expectations……their food was the best and their concern exemplary and touching! Thanks to your attention to detail, all the arrangements connected seamlessly. I guess it will be difficult not to travel Ritz Carlton club level in future.
The trip was wonderful as the French Polynesia is truly beautiful and (to us at least) a unique environmental marvel. We just couldn't get over the color of the water–crystal clear blue.
The Paul Gauguin cruise line was great with impeccable service. Our boys had a blast and took advantage of more adventurous excursions such ATV and jet ski rides. They also took full advantageous of the all-inlusive alcohol that was available. So many many thanks for suggesting this trip and making all the arrangement that you did. Once we download some of our pictures, we will send you some.
How can we thank you enough for your attention on the cruise? Your sense of fun and, yes, adventure, made for a memorable experience. (I especially want to thank Mark for his thoughtfulness is getting the cane for Bob. It helped to navigate the ruins!). I hadn't realized how helpful it would be to have "hosts" on a cruise but the two of you always had the right answers, to say nothing of the way to have a good time. We are excited about our upcoming world cruise on Silversea. Your gentle encouragement pushed us over the edge! Would you please let us know the people we should contact at Virtuoso so we can lobby them for you to host the trip? We know that we can count on you to not only "take care of us" but that you will ensure that we have the best time ever. Thank you, dear friends, for introducing us to the fun of cruising the world. What next?"